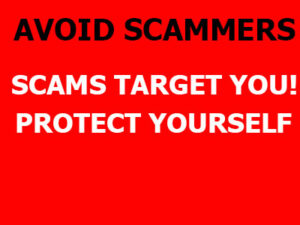 Have you been wondering how you can avoid online scams? The good news is that you are not alone. The number of online scammers has constantly increased over the years, and people are still falling into the trap each day.
What are online scams?
Online scams are outwardly appealing, online platforms which with their mouthwatering deals will promise you that you can make a huge amount of money and get-rich-quick over a short period.
This article aims to help you understand how you can easily identify them and protect yourself from online scams.
1. Don't be desperate for money
Hard work is paramount for anyone who wants to succeed, which means that nothing will come easy for you. Online scams usually take advantage of desperate people, especially the youths, who desperately look for ways to make money as first as possible. You must learn how to avoid any attractive platforms that promise high returns within a short period. Below I have highlighted some of the online scams that you will find;
a) Invest a certain amount and gain huge interest over a short period. For example, invest Kshs 10000 and earn 30% interest after three days. It is a SCAM.
b) Make Kshs 10,000 daily working 1 to 2 hours with your smartphone, ask me how. It is a SCAM.
c) Someone who promises to sell you an app that supports you can self-click ads and earn Kshs 10,000 daily. It is one of the tricks being used by some of the application developers. You should note that Google is IP-address sensitive, and self-clicking of ads will not earn you anything.
d) PayPal chargebacks. This is a common issue in Kenya, and it is one reason that most PayPal services are not available in Nigeria. If you are a victim of PayPal chargebacks, you will have a negative balance, and you will have to pay.
2. Know who you are dealing with
Most scammers always hide their identity or use pseudo accounts to avoid being traced after they have conned you. So, before you should do before joining any online venture, the first thing is identifying the owners of the websites and apps. Are they registered? Who will you sue in case of any fraud in the company? You can also try contacting the customer service of the ventures before registering to see how they respond.
3. Another way of identifying online scams is by doing thorough research. You can do this by searching for reviews about the platform you are not sure about its legitimacy. Be vigilant since not all reviews are true. Some reviews will mislead you into thinking that a platform is legit when it is not. Similarly, some reviews may claim a certain platform is a scam when it is not; this happens when a different want to tarnish their competitors' name so that they can easily maximize their profits.
4. Avoid clicking random links shared on various social media platforms. Most of these links have some enticing promises, such as data bundles, quick cash, etc. They will ask you to enter some personal details such as bank account records, credit card numbers, Mpesa details. These details can be used to hack into your financial accounts, and you might end up losing money.
5. Be patient with what you are doing
When you hear people talking about making money online, you should also know that they have been patient and put a lot of hard work into whatever they are doing. Making money online is sweet since it does not require a lot of physical work, and it can be carried out at home. However, if you don't find something you are passionate about, you will be frustrated. For example, if you are good at creating videos, you may start a YouTube channel to vlog your videos. Passion will determine your vlog's success since becoming a successful YouTuber will require a lot of patience.
People who fall into scammers' traps are less patient. They want to be rich overnight. So, it is easier for the cons to take advantage of the situation and scam them. You should shift your focus from making money quick and easy to concentrate on doing what you love and are passionate about. That is the reason most writers are succeeding in online writing and blogging. You can always develop a passion for something; it is not always something people are born with.
6. Avoid some social media influencers
When a celeb joins a particular online venture, most of his/her followers will join the same online venture. This is risky when the online platform is a scam; the celeb will earn a huge amount by misleading while his followers lose their investments. It is also common while dealing with various products where the social media influencers advertise fake products just because they are paid to do so. The fans of the celebs are the ones who experience the losses. To avoid being scammed in this manner, carry out some research before buying or joining anything.
Also Read: How to start a Money making Blog
Endnote
Every day, different people are coming up with ideas on how they will scam you. It is upon you to be vigilant and careful about what you join and where you invest your money and time. Earning money online is fun since we do make money too. Find some legitimate ways to do so and then start working hard.
Have you ever been scammed online? Share your story below by leaving a comment below.