Is Lilac Robots legit? How does it work? Is Lilac Robots platform worth joining? Hello and welcome to Online Jobs Reviews. This article reviews the Tradingrobots.live website to determine whether it's paying or just a ponzi scheme.
Let's get started with everything about Tradingrobots.live!
Lilac Robots review: What is it?
Lilac Robots, found online at Tradingrobots.live, is a platform made by forex trading robots. The bots work for you for as the trading team is automated by the company bots. It claims to be paying its users whenever they deposit funds on the platform.
According to Whois, the Tradingrobots.live domain was registered on May 27, 2022. It's about 5 months which should be enough in helping assess if it's legitimate or not.
How it Works
Lilac Robots works in a simple model which can be understood by literally everyone.
Joining is free and therefore you won't have to pay anything to be a member.
You just have to sign up and get approved by the support from the Tradingrobots.live. Do the tasks to earn money and then withdraw the funds.
The description of it works is given on the Tradingrobots.live website and it is simple to understand.
They actually state that you can make significant income by just investing daily, sharing your link and doing other tasks.
Is Luxilifeagencies.net a scam or legit?
Ways of Earning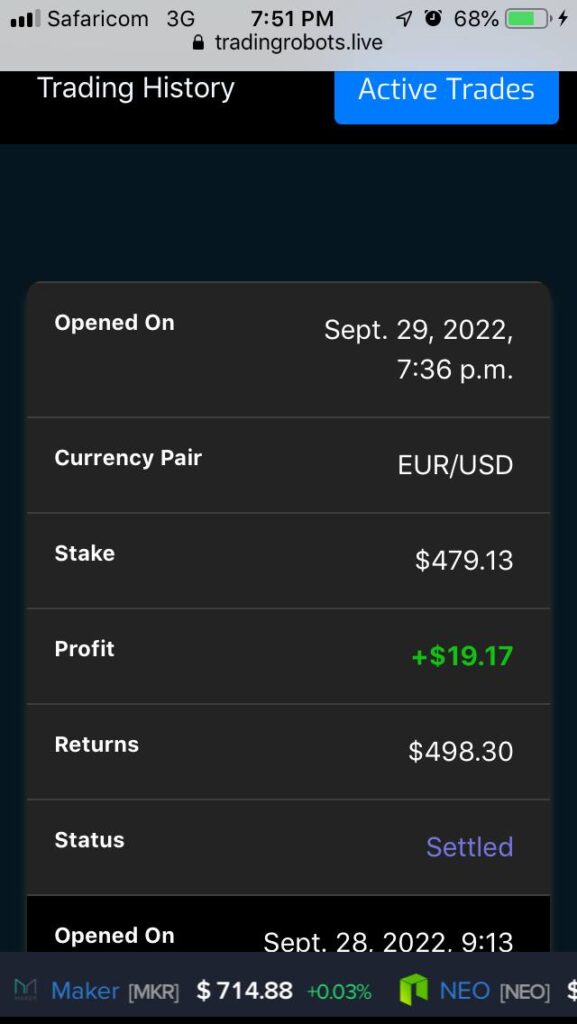 Making money is mainly through tasks and referring. The tasks are the backbone behind which the website is designed. It is what the site business model is built upon.
Investing/Depositing
Plan 1
You'll get 4% profit of your equity daily when you deposit money from ksh1,000-Ksh50,000. This means a return of Kes 40 on the lower limit and Kes 2000 on the upper limit.
Plan 2
In this plan, you get 5% profit of your equity daily when you deposit money from Ksh60,000-Ksh100,000. The minimum investment will thus give you Kshs 3,000 and Kes 5,000 for maximum deposit
Referring
It's an invite and earn program which Tradingrobots.live has introduced to get more people into the platform.
You're given a unique invite link that can be used to refer people to Lilac Robots. You can share it with your family or friends and even social media followers.
Creating fake accounts is frowned upon and usually lead to banning of accounts. It is in Tradingrobots.live Anti-Cheat program.
Also read // Does Youtube Pay Through Mpesa?
Business Model: How it makes money
It's important to understand how an organization makes money! It is easier to verify its legitimacy easily from such information.
Tradingrobots.live has no definite business model. It's not clear where they get the funds to sustain their business while paying the members such high amount of money. It's
Who can join?
There is no doubt that the platform is dominated by Nigeria and South Africa but still people from other countries such as Egypt, Kenya, United States, Brazil, Canada, Australia and United Kingdom can also join Tradingrobots.live.
How and when to withdraw?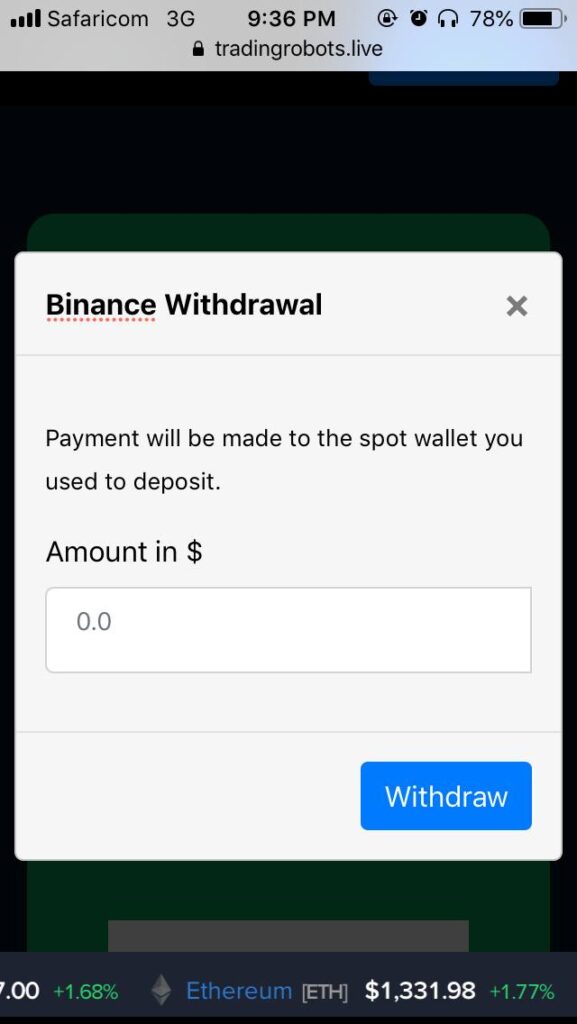 Tradingrobots.live has multiple methods of payment listed on the website. They include Mpesa, PayPal, Binance, etc.
The minimum withdrawal is Kes 50. You can't request for payout before attaining this limit.
Payment Proofs
We have tried to find at least one payment proof but there's none in the public domain. If you have one, share it via contact us button.
Lilac Robots Contacts
To access the support, you'll have to register first and then login. Meaning if you've queries before joining, you cannot ask.
Lilac Robots Registration and Login
If you're interested in joining the platform you can either
Visit their website Tradingrobots.live and click 'Register' or use a referral link from a current member.
Enter the required details such as Username, email address, and password.
Then click 'REGISTER'
You can then login by clicking the 'LOGIN' button after visiting Tradingrobots.live and then entering the Username and password used to create the account.
Who is behind the website?
Tradingrobots.live owner or the management is unknown. There isn't any information about the origin of the Lilac Robots.
Is it Legit?
Hidden owner's identity, lack of payment proofs, unrealistic business model and many other red flags can only mean that Lilac Robots is not legitimate. There's a high probability it's a scam which will waste your time with mouthwatering deals.
Final Thoughts
Even with its multiple ways of earning, Lilac Robots might not be the ideal work from home job that can help you make money online. 
It's only worth joining Tradingrobots.live if you are just testing different platforms. My view is that it's not worth your time.