Cash Chat is an app developed by Pesamoni Ltd to aid in connecting people across the world and making money online simultaneously. It was formerly known as Bold Cashers, where it operated as a website only.
Users can easily converse with their friends online by sending text or voice messages, images, and videos with the Cash Chat app. There is also an option of paying bills such as electricity, water bills and more. Although not available in all countries, users can buy airtime using the cashchat app instantly.
How Cash Chat App works
Cash Chat App works like a normal messaging app such as telegram or WhatsApp. However, it has some extra features that help users earn extra income online, making it more appealing than the other apps.
Features such as earning when ads are posted on your Cash Chat App are some of the exceptional deals you'll get when using the mobile application.
Cash Chat has a joining fee which is Ksh 1550. It's a subscription fee for all users who want to access all Cash Chat features. The account has no renewals; the activation fee is paid once, giving you lifetime access to all Cash Chat current and future features.
Methods of Earning
Some of the ways you can make money with the Cash Chat app include affiliate marketing, advertising agent, spin wheel, and more. All these methods are explained below;
1. Affiliate Marketing
As soon as you activate your cash chat app, you become an affiliate marketer by default. It means you can recommend Cashchat to your friends and earn a commission. This is usually done using a unique affiliate link that can be found once you log in to cash chat.
By participating in the Cash Chat App referral program, you earn Ksh 1,000 whenever you invite someone, and he or she creates an account. The person you invited must activate their account before you get the commission. You can withdraw the earnings anytime you wish.
There are various ways through which you can earn more with the Cash Chat affiliate program. Since the bottom line of the earnings depend on the number of users who joined using your link, promoting it is crucial. Here are some of the methods you can use to get more people to use the Cash Chat app;
Face-to-face promotion. It's the most effective method for explaining to the prospect how the app works and getting instant feedback. It's a tiresome method, and you might face harsh feedback. It is most preferred when promoting to your friends.
Social Media platforms; Through social media, you get to reach a lot of people at once. It is important to explain why they need the product and how it will improve their lives since most won't trust you. It would be best if you also avoided spamming groups to avoid getting banned.
Using a blog: It is the most effective way of promoting any product. This can be done using a niche blog. You have to write an article explaining your product and then attach your affiliate link for anyone interested. You can read how to start a blog and make money with it.
YouTube promotion: It's also an effective method you can use to promote cash chat. You'll have to demonstrate how it works via a video.
2. Cash Chat Agent
You can make money as a Cash Chat advertising Agent. The first step is filling the application form to be an agent and convincing different advertisers to use Cash Chat to promote their products.
You get to approach entrepreneurs, companies, and other businesses and explain how they can maximize profit with the Cash Chat app. They must see that indeed there's a return on investment. You'll then earn a 20% commission of the amount paid by the clients to Cash Chat.
For instance, if the advertising fee paid by the client to cashchat is Ksh 20,000. You'll make 20% of the total amount, which is Ksh 4,000.
3. Cash Chat Status views
This is another program where you get paid for status views in your cash chat app. Updating statuses has become a daily thing, and it's already happening on WhatsApp, Instagram, etc. The difference is that there are chances of getting paid when using cashchat.
When you post a status in the app, an ad will be placed so that your contacts can view it before seeing the status you uploaded. It's almost similar to YouTube, where you see an ad before the video starts playing.
You're paid based on the number of views the ad gets in what is referred to as Pay Per Impression (PPI). Different ads vary in earnings depending on the advertiser's bid through the Cost per Mille (CPM).
CPM is the cost that a client is willing to pay for every 1000 views the ad gets. Bold Cashers then take a certain amount and then give you the other percentage.
Ads may appear in different formats, including as a video, text, or display. The pay rates vary with the type of ad; video ads can pay over $10 per 1000 views. Other types may pay a few dollars and even cents. There's no definite way of telling as advertising also varies with seasons.
The bottom line is you must have many contacts to get good rates. For example, if cash chat is paying you $3 per 1000 ad views (impressions) and you get 80,000 views in a month, that would translate to $240, which you can withdraw via Mpesa or Bank.
As Bold cashers have stated, this model of earning is still rolling out. There hasn't been full implementation; thus, it's not ready for now.
4. Spinning Wheel
Cash chat free spin is available to all members on specific days in a week. There are chances of winning between Ksh 10 and Ksh 450. Like all the other spin wheels, chances of winning are based on your luck.
It's not a reliable method of making money with cash chat. The spin wheel is also timed, meaning if you miss the spinning period, you'll have to wait for the next day.
5. Savings
You can save money with cash chat and earn a 15% annual interest. The interest may vary depending on the principal amount. This method requires patience, and it should be used only when you're sure you won't need the invested amount regularly.
How to Join
Cash chat is available worldwide. You can refer across the countries and also send/ receive money to anyone in Kenya, Uganda and Rwanda.
If you are interested in making money with Cash Chat as well as accessing all its other features, follow the steps below;
NB: Cash Chat will give you Ksh 200 back into your account after activation. This applies to all new members.
Step one; Registration
Create your unique account by clicking here.
You'll then be redirected to a page that similar to the one below.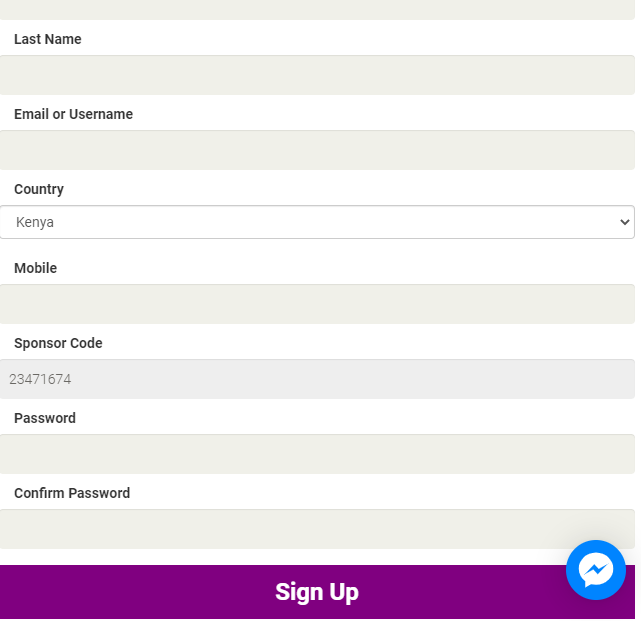 Here you'll enter all your necessary details, including name, email address, password (enter a strong one and don't share it with anyone). Ensure your mobile number is the one you'll be using to receive payments. If you're in Kenya, the Mpesa number is preferred.
Confirm the details are correct and click the sign-up button.
Step 2; Account activation
As stated earlier, your account must be active before you start making money with cash chat. This is done by paying a one-time subscription fee of Ksh 1550. The subscription fee in Uganda and Rwanda is equivalent
The procedure of activating your account will be available in your cash chat dashboard.
For simplicity, we have included a step-by-step guide on activating your cash chat app account using Mpesa, as illustrated below. There are two methods of doing it;
Method 1
This method is highly recommended as it's fast and convenient.
Login into your Cash Chat App using your email and password
Click the Pay Subscription option in the dashboard.
On the next page, Select Pay from the mobile tab.
Enter your Mpesa number or any relevant mobile money number which you'll use to pay the Ksh 1550.
Click Make Payment after confirming the phone number is correct.
You'll receive Mpesa popup prompting you to enter your Mpesa Pin. Confirm the transaction by entering it and clicking OK.
Your account will be active, and you can access all cash chat features.
Method 2
Alternatively, you can use this method to activate your account.
Go Sim Toolkit, and click Mpesa Menu
Under Lipa na Mpesa section, select Paybill
Input Business Number as 4040043
Enter account number as BC
Complete payment by inputting your Mpesa PIN and clicking ok.
Copy the Mpesa reference code from the confirmation message you received after paying the activation fee.
Login to your cash chat account and click Activate Account on the dashboard.
On the next page, paste the Mpesa reference code you copied and click submit. Your account is now active.
Step three; Installing Cash Chat App
Download and Install the Cash Chat app from Play Store.
Login into the app using your email and password used during registration. For security purposes, cash chat may want to verify you by sending a code to your email. This is to prevent any fraud issues.
You will see all the features available; chat with your friends who are also using Cash Chat. Copy your affiliate link and start sharing it with anyone interested.
Is Cash Chat App Legit
Cash Chat is a legitimate app with all the relevant legal documents which prove the registration of Pesamoni Ltd. This can be seen in the certificate of incorporation below; if in doubt, you can verify it with relevant authorities.
Physical offices are important when it comes to verifying the legitimacy of a company. Cash chat has offices which are located on the 6th floor along Utalii Lane in Nairobi, Kenya.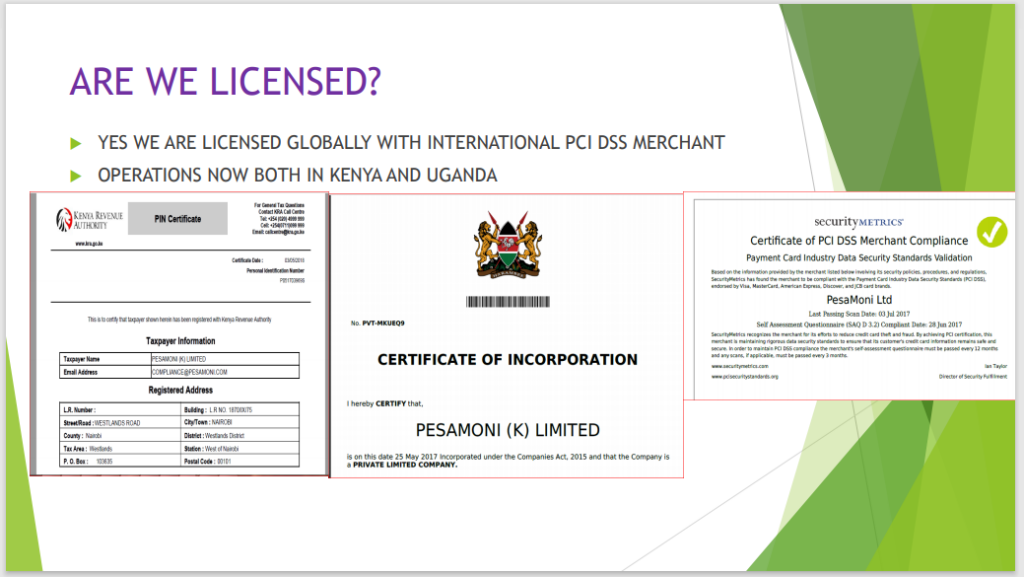 Cash Chat is a product itself that people can use in transferring money, making money, and communicating. Therefore, the possibility of it being a pyramidal scheme is minimal.
Final Thoughts
Finding a legit online job has been hard considering the number of Ponzi schemes being launched each day. Opportunities like Cash Chat are rare, and they shouldn't be ignored. Giving it a trial might help you, as Ksh 1550 is not much compared to the amount we invest and lose in many scenarios.
The CEO and other staff of Cash Chat have appeared on TVs and explained how it works. Check out the video below to have a clear understanding of how cashchat app works.
If you've read this post to this point, I am sure you understand how you can earn and all the other features. Analyze and make a personal decision on whether to join it or not.