Crowd1 has been trending in Kenya and quite a number of Kenyans have joined with an aim of making extra income online. As you might have seen in various social media platforms, a lot of screenshots are being posted by crowd1 members showcasing their earnings. However, there are a good number of people who have joined crowd1 and ended up losing their investments. I have decided to write this review to help you decide whether crowd1 is worth joining or not. I will analyze both the positive and negative side of crowd1 without any bias.
I have written this article in form of questions & answers format to help you get the right answers about crowd1 you might be having. It will be simple for you to make a decision on whether you should join crowd1 or not.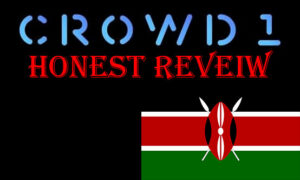 Is there joining fee in Crowd1?
Yes. Although crowd1 registration is free, you will be required different packages for you to become an active member.
How much does Crowd1 packages cost in Kenya shillings?
Crowd1 has four packages that you may choose to buy,
a) White Package which costs Kshs 12,000.
b) Black Package which costs Kshs 35,000.
c) Gold Package which costs Kshs 92,000.
d) Titanium Package which costs Kshs 295,000
Can I make money in crowd1 without referring/recruiting?
This is the most asked question, and the answer is NO. Despite the fact that most of crowd1 members are using the narrative that you can earn with recruiting anyone in crowd1, most people have ended up being disappointed. You will be promised huge dividends after every three months but be warned if you don't you will earn very little and in most cases nothing. For you to start earning without recruiting the lowest level that you must attain is team leader, meaning you must have recruited and the people you recruited must do the same and the sequence continues.
Read // NFTpump.ai review: Get 3.51% ROI
What is fear of loss bonus in Crowd1?
The fear of loss bonus help you get back your investment. To qualify for fear of loss bonus, you will have to refer 4 active members (they must sign up using your referral link and purchase a package) within 14 days. Otherwise you will not get the fear of loss bonus. The fear of loss bonus will depend on the package that you bought as listed below:
White package- Kshs 14,000(125 euros)
Black package- Kshs 43,000(375 euros)
Gold package- Kshs 115,000(1000 euros)
Titanium package- Kshs 345,000(3000 euros)
What is streamline bonus? Is it true you will be paid without recruiting?
Streamline bonus is 'paid' weekly to all crowd1 members even without recruiting. It is important for you to know that the amount will just be reflecting on your crowd1 account which you can only withdraw after three months. The streamline bonus that you claim every week is huge amount but be warned because that is not the same you will be paid.
Actually, if you decide to keep on claiming the streamline bonus without recruiting anyone you will be paid nothing. The only case where you can be paid is when your upline decides to recruit people on your behalf which rarely happens.
Also Read: How to start a Money making Blog
What is binary bonus in Crowd1?
This is a bonus that you will be awarded once you bring someone who gives you certain points depending on the package bought. The binary bonus is not paid unless you have a well-balanced ratio on left and right of your referrals. Below I have indicated the number of points you will earn per active member you refer in each package;
White package- You earn 9 euros which is equivalent to 90 points.
Black package- You earn 27 euros which is equivalent to 270 points.
Gold package- You earn 82 euros which is equivalent to 820 points.
Titanium package- You earn 225 euros which is equivalent to 2250 points.
What is matching bonus in Crowd1?
Matching bonus refers to the amount that you will earn when your downlines earn. You will earn 10% of what your downlines earn. For example, if they earn 108 euros in the binary bonus, you will get 10.8 euros as your matching bonus.
How do I withdraw from crowd1 in Kenya?
There are various ways through which you can withdraw your earnings in crowd1 such as bitcoin and luno. However, these methods are not popular in Kenya, so most of crowd1 members in Kenya end up buying gift codes and then selling the codes to new members who are interested in joining crowd1. In simple words, currently there is no official way you can withdraw your earnings to your Mpesa. You can buy the gift codes using your earnings and then resell it and receive the cash to your Mpesa account. Otherwise, you can choose other ways to make withdrawal.
Conclusion
In conclusion, I personally believe Crowd1 is a

SCAM

, and i wouldn't advise anyone to join. 
However, if you insist on joining, you can read the paragraph below.
Before you decide to join crowd1, make sure that you are good at recruiting people. And note that you have to convince those people to buy at least one package for you to earn. Otherwise, if you really know that you cannot recruit anyone then avoid joining crowd1. Also, you must be ready to invest what you can afford to lose. Remember the cheapest package you can purchase is worth Kshs 12,000 which is most Kenyans monthly basic salary or even less. The probability of losing your investment is much higher than that of earning it back.
I hope that this article has helped you understand crowd1 better.
Comment below in case you have any query, feedback etc.