Welcome to NFTpump.ai review
Is NFTpump.ai legit? What is it? How does NFTpump work? Is it worth joining? Hello and welcome to Online Jobs Reviews. This article reviews the NFTpump.ai website to determine whether it's paying or just another HYIP Ponzi scheme.
Let's dive and analyze all the features of this trending platform.
NFTpump review: What is it?
NFT Pump, found online at NFTpump.ai, is an online investment platform where people can invest and get returns within 24hrs. This is how it's described by the owners where they also guarantee payment after the investment has matured.
According to Whois, the NFTpump.ai domain was registered on September 9, 2021. It is therefore more than a year old and has been paying people since then as shown by some of the shared payment proofs in different social media platforms.
Also read // Earnapp.com review
How it Works
NFTpump.ai is free to join but you'll have to deposit to start earning. As described, you create an account, make a deposit, wait for its maturity and then withdraw.
They have different methods of depositing or cashing out and you get the money within 5 minutes especially when you use crypto methods to withdraw.
Ways of Earning
NFTpump has two main methods of earning being the investment program as well as the affiliate program.
Both ways of earning are interrelated since to earn through referrals they must have invested on the platform. Below we have clearly explained how each of these methods work.
Investment Program
NFT Pump investment program has daily returns which ranges between 2.81% and 3.59% depending on the amount invested where the higher the amount the more returns you'll get. 
In most cases the returns will be 3.51% of the deposited amount.
The minimum amount you can deposit is $3 and there is no maximum limit so you can invest as much as you can.
For instance, if you invest $100 you'll get a daily profit ranging between $2.81 and $3.59 which translate to monthly returns ranging between $84.1 and $107.7.
Related // Is Megaqash Legit or Scam?
Affiliate Program
The affiliate program ensures that users get commissions for promoting NFT Pump. You're given a referral link which can be shared on social media or with friends.
NFTpump.ai referral program has 4 levels where 6% commissions are distributed. Below is how the commissions are distributed by each level
Level 1: In this level you'll earn from people who you directly invite using your affiliate link. You'll earn 3% of what the referrals deposit. For instance, if they deposit $150 you'll get $4.5.
Level 2: Here you earn 1.5% of the deposits from the indirect referrals invited by your direct referrals. If they deposit $150 you earn $2.25.
Level 3: In this level you'll earn 1% of what the referrals (invited by level two indirect referrals) deposits. For example, if they invest $200 you'll get $2.
Level 4: This is the final level where you earn 0.5% of the investments made by people invited by your level three indirect referrals. For instance, if they deposit $200 you'll earn $1.
Who can join?
Anyone can join NFTpump.ai whether you're from the United States, South Africa, Canada, United Kingdom, Brazil, Kenya, India, Australia, Pakistan, Nigeria, New Zealand, etc.
The good thing is that the payment methods involved are crypto based and therefore anyone can have access worldwide.
How and when to withdraw?
You can withdraw your NFTpump earnings anytime you want as there are no minimum payout requirements at least for most payment methods.
Some payout options may require a minimum amount before you cash out.
Below are some of the means you can use to request for payout.
Bitcoin
Ethereum
USDT TRC20
Litecoin
USDC TRC20
DashPay
Tron
PerfectMoney
Dogecoin
NFTpump Registration and Login
If you're interested in joining the platform you can follow the steps below.
Step 1: Visit NFTpump.ai website
Step 2: Click the Join Now button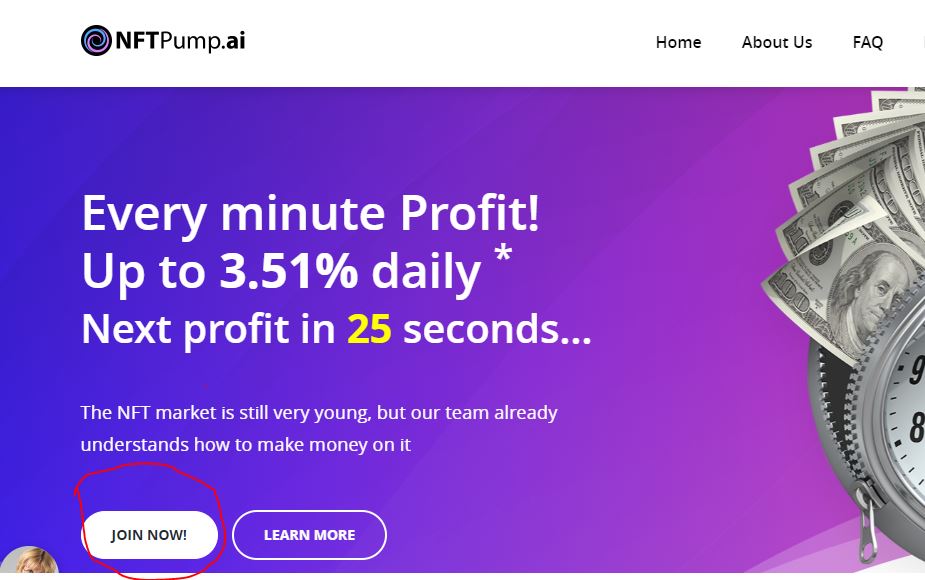 Step 3: You'll be directed to a registration page where you should enter your details including email address, Name and password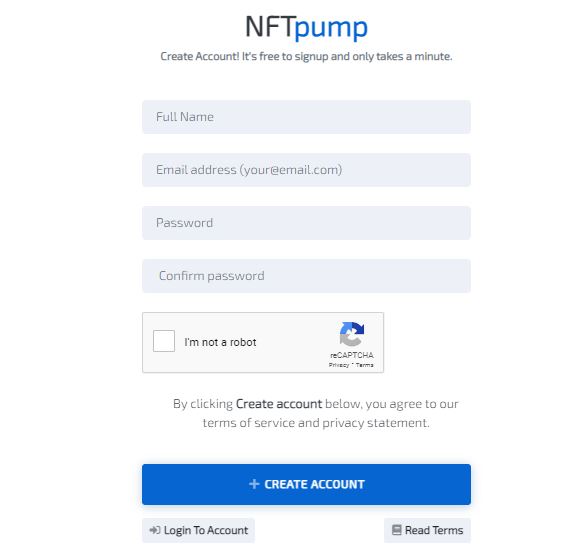 Step 4: Then click Create Account
You can then login and explore all the features of the platform.
Depositing is easy as you can easily click any method you wish.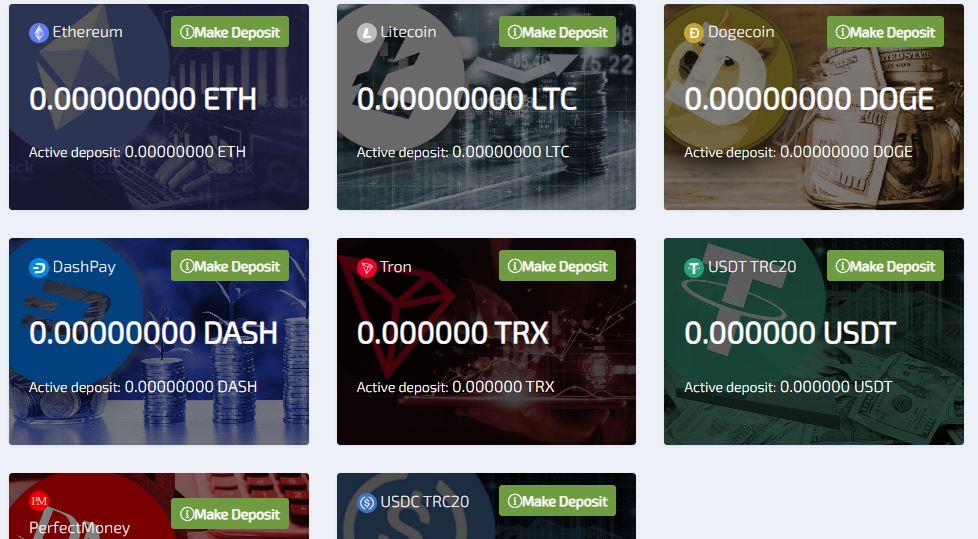 Is it Legit?
NFTpump.ai is a legitimate platform that you can depend on as a way of making money online. The company has been paying its users for more than a year.
They actually have positive reviews on Trustpilot. There are also major payment proofs from different members who have used NFT pump.
Conclusion
Nft Pump can help you make money online through investment or the referral program. The website has received positive feedback on social media platforms and therefore it can be said to be legitimate. It's always important to do extra research and invest what you can afford to lose.