Welcome to Earnapp.com unbiased review
As long you're connected to internet, EarnApp will help you make money with the unused internet bandwidth. Get paid for installing an app in your computer and leaving it to run in the background.
This review helps you understand what is EarnApp.com, how it works, how you can earn as a user, if it's worth joining by analyzing its legitimacy and more.
Quick Summary
| | |
| --- | --- |
| Product Name | EarnApp |
| Cost | Free |
| Website | www.earnapp.com |
| Owner | BrightData |
| Product Type | Data Monetization/GPT |
| Rating | Recommended but not realiable! |
EarnApp review: What is it?
EarnApp, found online at earnapp.com, is a data monetization app that pays you for the unused bandwidth on your device. They collect the data safely to ensure that your privacy is not exposed and you also earn. It is owned by BrightData which is part of EMK.
Apps like Tapestri and Peer2Profit are already paying their users for sharing the unused internet. The requirement is downloading the app and running it on your device. Afterwards, you get to earn money based on the bandwidth shared.
According to Whois, earnapp.com domain was registered on May 5, 2009 and last updated on April 4, 2021. It has been allowed for quite some period.
How it Works
EarnApp works in three easy ways. Users download, install the app and start earning. They pay you in different ways as discussed later in this post.
How does Earnapp.com make money?
The company business model is based on its customers who purchase the data shared by Earn App consumers. In their description, they have customers like universities, ecommerce sites, banks and more.
With the help of BrightData, the customers can buy the data for different purposes such advertising. Earn App generates its revenue this way and the users who share the bandwidth get paid.
It's a proven revenue model that works but it's usually not stable. The amount you earn per GB depends on what different companies and organizations are bidding on your data.
Also read // Is Skynic.net Legit or a Scam?
How you'll earn
EarnApp.com has two methods that you can make money. The main one is by installing the app on your devices. You can also make money by inviting your friends. Below is a detailed explanation of each of these methods;
Install and Earn
You can earn money by installing EarnApp in your devices letting it run in the background. They support different devices such as Windows, Linux and MacOS.
The earnings are per GB which you can easily view from your account. One key thing to note is that they're not constant, EarnApp.com has the freedom to change the rates.
As at the day we're writing this review, they pay $1 per GB for US residents. Other users whitelisted countries such as Canada, France, Japan, earn $0.5 for every GB. The rest of users from other unlisted countries earn $0.1 per GB.

The payout rates are relatively low especially given how long it can take to reach the 1GB target. You would have to install BrightData in many to make to make any worth amount.
Also read: LipaPal Agencies review
EarnApp Referral Program
Apart from earning through the unused bandwidth, users can invite their friends to join Earn App and get paid 10% of their lifetime earnings.
The rates are subject to change, they can be increased or decreased. Either way you'll need more referrals to boost your earnings. Perhaps having your blog or website can help you upscale your downlines.
The personal link can be found on your Earnapp.com dashboard or under 'Referrals' tab (you can also view the list of your referrals under this section.
Read more: How to make money on Ikopesa
Who can Join Earnapp.com?
EarnApp is open to all members worldwide but the earning rates are still boiled to your country of residence. Don't be alarmed even if your rate per GB is low, you can still refer people from countries with higher rates.
How and When to get paid?
Earnapp.com provides a mix of payment methods with different minimum withdrawal threshold.
PayPal Min Payout – $5
Amazon gift card – $25
The recommended method is PayPal. They send payments thrice a week through this method. On the other hand, amazon gift cards are issued only twice a week.
There are various payment proofs being shared on social media by Earn App members. Having joined Earn App, we'll update this review if they pay us after hitting the minimum payout.
Registration and Login
Joining Earnapp is free, all that is required is your email.
To register, click this link and sign up.
You'll be automatically be redirected to your Earn App account dashboard. Alternatively, you can login by visiting earnapp.com website and clicking sign in.
You can then access all the features including the download link for each device.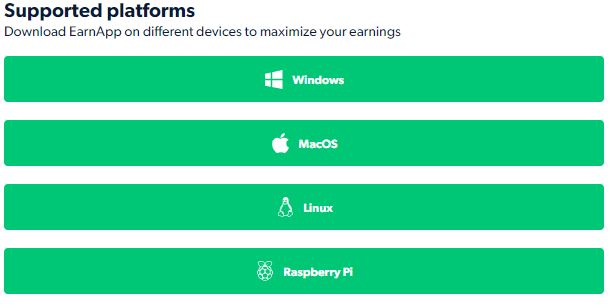 PS: Earn App is not available for android version. So, you can't install it on your phone.
Read also: Pataqash Technologies review | Legit or Scam
Scam or Legitimate
Since there have been payment proofs being shared and the business model is clear, we can conclude that EarnApp is legitimate website that you can use to earn extra income online. There are however some complaints on TrustPilot which suggest it might be a scam. You should check the reviews both negative and positive before joining.
Related: Cash Chat App review
Final Thoughts
Overall, I would say EarnApp is a good site to join as long as you set your expectations properly. They've been proven to be paying and therefore you're assured that if you make money with it there are high chances of getting paid.
However, considering how much they pay, it shouldn't your main work from home job. Sometimes it may take you more than a month before you earn $5.
The good thing is you'll literally do anything after installing it in your devices. As long as you're connected to the internet, then you're assured of making money. To boost your earnings in Earn App, you can either participate in their referral program or install it in lots of your devices.
You may also like: Best sites to Sell Photos online