EARNSMART  AGENCIES REVIEW
In this article I have compiled all the information that you should know about earnsmart agencies. I hope this article will help yo decide whether you should join earnsmart or not. I would prefer you read the full article for you to know whether it is a scam or a legit platform.
INTRODUCTION
Earnsmart agencies is an online company involved in network marketing. It offers free ebooks to all its members, Earnsmart members are also allowed to refer others into the website and they earn commission.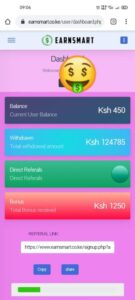 Earnsmart registration details
According to the certificate below, earnsmart agencies is registered by the Government of Kenya under Business number: PVT-GYUD3M8.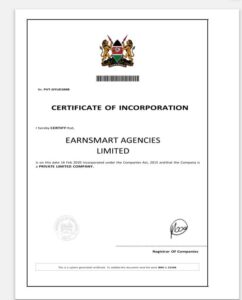 Domain registration details
Earnsmart domain was registered on 10th June, 2020 and last updated on 10th July, 2020, the registrar being Hostpinnacle Kenya Limited
Captain Bedan is the CEO of Earnsmart Agencies
The next question you might be asking is, how does earnsmart agencies work?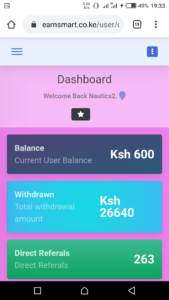 How to earn with Earnsmart?
Joining Earnsamart is only Kshs 500 only, You earn through referrals and also through spinning but note that spinning is based on your luck, Also, since you will be given free ebooks which you are free to sell, then you can generate more income by selling the ebooks. I have explained the various ways of earning after you join Earnsmart,
1. Through referrals
Once you join earnsmart agencies, you will get a referral link which you can use to invite other people. As a member of earnsmart you will earn upto level 3 of your referrals. Below is an explanation of how much you will earn in each and every level;
Level One: Whenever you refer someone directly(when someone join earnsmart with your referral link) you will earn 300Kshs.
Level Two: Whenever someone on your level one refers another person, you will earn 100Kshs.
Level Three: Whenever someone on your level two refers another person, you will earn 50Kshs.
For example,
If you refer Alice, you will earn 300Kshs
When Alice refers Kevin, you will earn 100Kshs
When Kevin refers Jane, you will earn 50kshs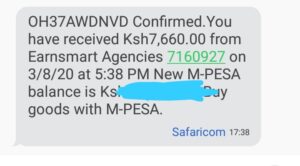 2. Through Ebooks selling
As I had indicated earlier, being a member of earnsmart agencies you will be able to download free eBooks in pdf format. This means that once you get the eBooks you can sell them at any price you wish.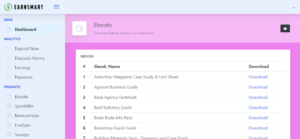 3. Through Spinning
In earnsmart, spinning is not the main way of earning, it is just a bonus that is based on luck. Kindly read the explanation below where i have elaborated how the two types of spinning in earnsmart work.
a)New user spin: This spin is for the new members of earnsmart agencies. It is a free spin. To qualify for this spin, you must register and activate your account immediately and also spin instantly, otherwise you will not be considered a new user.
b)Casino spin: This one is like betting, where you stake any amount from Kshs 20 and above and then spin. You can win and sometimes you can lose. So bet responsibly.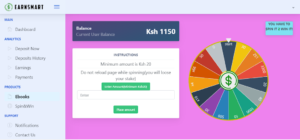 How to register with Earnsmart Agencies?
If you have Safaricom number and 500Kshs in your Mpesa, and you would like to join earnsmart agencies,
After registering, you will be prompted to pay Kshs 500 which is the activation fee and then after paying you will successfully login and start earning.
Payments Proofs