Unemployment in Kenya has become one of the biggest challenges that young people are facing which is yet to be solved. Consequently, people have been asking me to guide them how they can make money with Jumia in Kenya. That is the reason I have written this article to make it simple for you to understand.
Ways make money with Jumia in Kenya
Jumia has two major ways through which you can make money with as explained below:
1. Become a J-FORCE Agent
As a J-force agent, you will help customers place orders and then commissions per successful order.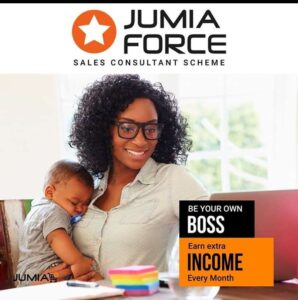 Jumia J-Force: How it works
The main advantage of being a Jumia force sales consultant (J-force agent) is that you don't require any capital to get started. It is absolutely free to join. You will also be rewarded per sales made, so the more sales you make, the more you will earn. It is entirely based on your hard work. Below I have given simple steps you need to follow to earn as J-Force agent.
Step 1: First of all, you have to look for people who want to buy different products on Jumia.
Step 2: You should then place an order on their behalf using your J-Force account.
Step 3: While placing the order, change your location to that of your client to make sure the commodities will be delivered to them.
You will then earn commission for each sold product.
How to join Jforce?
Visit Jumia Kenya website by clicking here and register as a Jforce agent. In case of any challenge you can contact me so that I can send you an invite.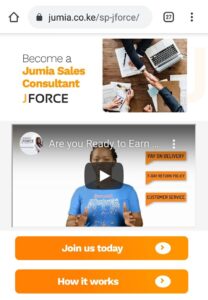 While registering you will have to give the following details, your email address, full name, phone number (for making payments preferably your Mpesa number), your region, your occupation, city, national ID copy and number, how you came to know about Jumia force services and the next of kin details.
Once your application is accepted successfully, you will be contacted by Jumia management informing you that your Jforce profile has been created and you can start placing orders on behalf of your customers.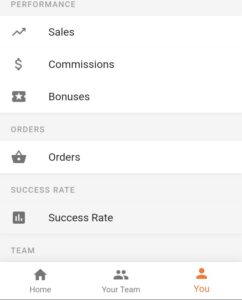 You may also download the Jumia app for easier access.
You will also be sent two tutorials to your email address. One of the tutorials will help you understand what Jforce entails while the other tutorial will help you understand how you can place orders.
2. Jumia affiliate program
Being a Jumia affiliate is almost similar to being a Jforce agent since in both you will earn commissions for successful order. One of the main differences is that in Jumia affiliate program it is the customers who make the orders and all they need to do is just click your affiliate link while placing the order. You can earn upto 13% commission per sale depending on the product. You can promote your affiliate link on your website/blog (if you own one), or in any social media platforms such as Facebook, Instagram, twitter etc.
In simple terms you just have to
a) Join Jumia affiliate program.
b) Find a product that you want to advertise
c) Promote the product either using your blog/website or social media sites such as Instagram, twitter etc.
d) Track sales from the Jumia affiliate website and then earn commissions.

While advertising, use of banners is highly recommended since they attract more customers and hence more sales.
Some of the advantages of being Jumia affiliate are;
·         You earn commissions up-to 13%. The commission you will get is for orders made by various customers who clicked your link within 30 days.
·         Payments will be made via Mpesa
·         It is free to join.
·         The more sales you make the more you will earn. Hence your earnings will depend with your effort.
How to become a Jumia affiliate partner in Kenya
Step 1: Visit the Jumia affiliate website by clicking here and then click Become an affiliate.

Step 2: Fill in the necessary details on Jumia signup page.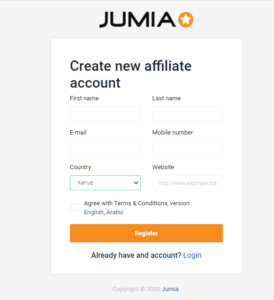 Step 3: Click Register and the check your email where you will be sent a link that will help you set your own password.
Step 4: Login into your account and select your banners or links to access the products and also generate links.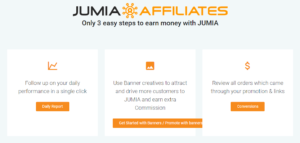 Now you can start advertising the products and make money online.