AIB Capital (AIB-AXYS Africa) is a Capital Market Authority licensed company that offers various services, including corporate finance, wealth and asset management, stock brokerage, and more. It is a branch of AXYS Group located in Mauritius with other UAE, Switzerland, and Hong Kong subsidiaries. The company is listed in the Nairobi Securities Exchange (NSE) as one of the participants in online trading.
Getting started with AIB Online Trading
You must follow specific steps before you start trading with AIB capital to ensure you do it legitimately. These steps include opening a trading account, registering for online trading, and more as discussed below;
Opening a CDS account
With AIB DigiTrader platforms, you can quickly open a CDS account by following a simple procedure. For this guide, we'll use the AIB capital mobile app to open the CDS account since it's clear and accessible to many people.
Download the AIB Digitrader app from Google play store, Appstore, or Windows store.
After the app is installed on your phone and opening it, click Open new trading account.
Fill in your details on the next page. Some of the elements required include your name, date of birth, national or passport ID, email address, etc. If you have a referral code, you can input it into the referral code section. Click continue after verifying that you have entered the correct details.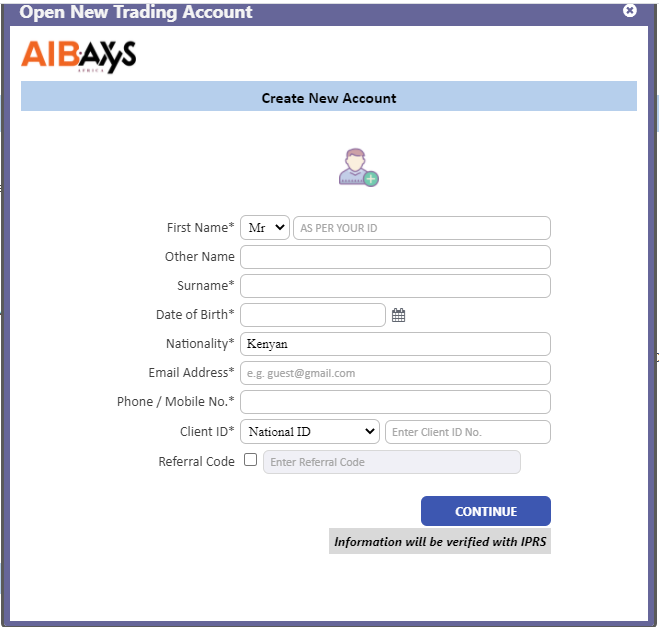 On the next page, enter your payment details, such as bank name and account. Other details required include your postal address, gender. Finally, enter your username and a strong password and then click create an account.
AIB capital will then send you an email with your CDS number, which you'll use to register for online trading.
Trading Platforms
AIB capital has two online trading platforms where you can buy and sell stocks. Having gotten your CDS account, registering for trading will be quick and fast.
Online Trading registration
Visit AIB capital online trading portal and click Register Now.
On the following registration page, enter your CDS code followed by your National/Passport ID or Incorporation Number and email address.
Click submit button. You now have a trading account with AIB.
Mobile trading registration
You'll use the AIB DigiTrader mobile app downloaded while opening a trading account. You can download it from the play store in case you haven't installed it.
Click Register now and enter your details, including your CDSC number, ID, email address, and then click submit.
Buying and selling shares with AIB Capital Ltd
Visit any AIB-AXYS trading platform, online trading portal, or the DigiTrade mobile app.
Click login and then enter your username and password used while creating your trading account.
You'll then see a page with all AIB features, including market watch, stock picks, statement, trade, available funds, portfolio evaluation, and more.
Click the Trade section, which will direct you to the 'Place New Order' page. Click whether you want to buy or sell stock. Enter the Security Type (company you want to invest in, such as equity bank).
Under Market quantity, you can choose ET Normal (if buying or selling more than 100 shares) or ET ODD if buying/selling less than 100 shares. Enter the number of shares you want to buy or sell.
The price range for each share will be shown under the price section. Enter the appropriate one that you're willing to buy or sell shares. Then select your order validate, the date after which your trade will cancel if it doesn't find a matching seller or buyer.
With that procedure, you can buy or sell shares anytime you want.
Payments
AIB payments can be made via Mpesa or different banks such as Equity Bank, Family bank, and more. All these details can be found in your trading account or on the AIB-AXYS Africa website.
Other features which you can find on the company's trading platform are;
Market Watch, which gives you all the market data such as last price, demand, and supply quantities rates of different security types. You can click on any company to find more information, such as demand and supply prices and quantities.
Another feature is the statement, where you can view all the transactions that have occurred over a certain period. This can be seen under the statement section in the trading platform.
Apart from the online trading platforms listed above, AIB users can trade via the USSD code by dialing *543# on your phone and following the next step by step guide.
Conclusion
AIB capital has made buying and selling of stocks easy and fast with their online trading platform. I hope this guide was helpful, and you can start trading. AIB-AXYS Africa is a registered company and verified by CMA in Kenya; thus, your investments are safe.
If you need any clarification about any steps in this post, watch this AIB-AXYS Africa YouTube tutorial on opening a trading account;
Also read: Dyer and Blair online trading guide