Tech Bank is yet another investment platform that was launched on 18th June 2021. Its website is techbank.co.ke.
Is Tech Bank legit, or is it yet another scam in Kenya like cash24h or supreme harvesters? Can you indeed make money online with tech bank Kenya? Is it a work from home job that can pay really pay you? These are some of the questions that we'll be answering in this post to give you the correct information on what tech bank is and whether you should invest any amount with them.
I first came across a tech bank from someone who invited me to join WhatsApp. Out of curiosity, I decided to check it out to learn more about it and whether it was a real paying platform or not.
I have gone through the tech bank website; their investment system, and I was not satisfied that they're legit. From what I observed, tech bank is a scam whose aim is to swindle money from innocent Kenyans. They have no legal information that can prove they're legit and can be sued in case of any malpractices. The owner of techbank.co.ke is not also unknown.
To understand what tech bank is, how it works and whether is worth investing with or not, we have explained it below.
What is Tech Bank
According to their website, tech banks offer their members a chance to make money online by investing in cryptocurrencies. They are involved in mining cryptocurrencies and also forex trading.
They promise a 10% daily interest on the amount invested in their website.
We had a similar site, rich tech traders, that offered the same returns on investment. Anyone who tried knows how it all ended. Kenyans lost thousands of monies, and to date, they have never been compensated.
Tech bank features
Let's look at how tech bank works and all the features you'll expect to find once you join.
Registration
Tech bank registration is free. Some of the details you'll need to enter to register with tech bank include;
Both your first and last name
A unique username to be used while logging into your techbank account
Your Mpesa phone number if you're in Kenya
Your email address and also enter your password.
Apart from Kenya, Tech bank allows people from other countries such as Rwanda, Uganda, Nigeria, South Africa and Tanzania to register.
Even though joining Tech Bank is free, you will have to invest money before you start earning. The money is supposedly required to earn you daily returns. If the returns were anything to go by, you would probably get rich quick. But they're not; such high returns on investment are absurd in any business world.
Investment Plans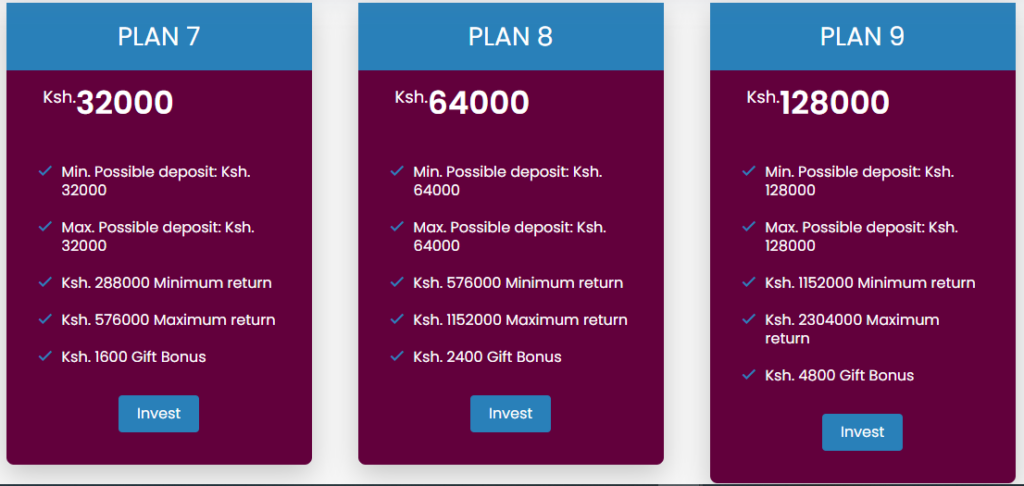 There are 10 investment plans in Tech bank. Each plan has different amount you're required to invest and so is the return of each plan.
Below is a list of tech bank, investment packages and how much you can earn from each package.
Plans
Number
Amount to invest
Minimum Return
Maximum return
Gift bonus
1
Ksh 500
Ksh 4,500
Ksh 9,000
Kes 25
2
Ksh 1,000
Ksh 9,000
Ksh 18,000
Kes 50
3
Ksh 2,000
Ksh 18,000
Ksh 36,000
Kes 100
4
Ksh 4,000
Ksh 36,000
Ksh 72,000
Kes 200
5
Ksh 8,000
Ksh 72,000
Ksh 144,000
Ksh 400
6
Ksh 16,000
Ksh 144,000
Ksh 288,000
Kes 800
7
Ksh 32,000
Ksh 288,000
Ksh 576,000
Kes 1,600
8
Ksh 64,000
Ksh 576,000
Ksh 1,152,000
Kes 2,400
9
Ksh 128,000
Ksh 1.152m
Ksh 2,304,000
Kes 4,800
10
Ksh 256,000
Ksh 2.304m
Ksh 4,608,000
Kes 9,600
After looking into the investment plans above, I just knew Tech bank is Ponzi scheme.
Assuming you'll be getting the minimum returns from any investment plan, the daily interest is 10%. This means you're getting a 300% return on investment monthly. Not even cryptocurrency mining or forex trading that Tech bank claims to be offering can promise such ROI.
Think of the top banks' interest every month; are they even close to what Tech bank is offering? Even if you buy and sell stock investments from leading companies, you wouldn't expect such returns.
Tech bank also promises constant returns, which is ideally impossible. The profit margins cannot be the same throughout; sometimes, companies make losses. This is another indicator that Tech bank might be a scam.
Referral system
Tech bank has a referral program where the members earn a commission for every person invited. The invitee must, however, invest before one is paid.
The referral system seems like a good strategy for Tech bank to increase the number of investments made. They can easily pay the old members' returns as long as new users are joining and investing. Since this pyramidal strategy won't last long, Tech Bank will collapse, and most people will lose their money.
In any Ponzi scheme, the referral system is the big player for the scammers. It's usually how such sites generate income to pay their members for their short life span before they elope.
Withdrawals
There are some people who are already using Tech bank and have requested for withdrawals. The money has been sent into their respective Mpesa accounts. For how long will the withdrawals continue operating? Do you think they'll allow you to withdraw after deciding to scam their users? Only time will tell.
Also read: Legit online Jobs for students in 2021
Conclusion
The best decision would be avoiding joining Tech bank. Their investment plans describes Tech bank as get-rich-quick scheme. For those who still want to invest with tech bank, it would help you if you invested what you can afford to lose.
Who owns Techbank.co.ke?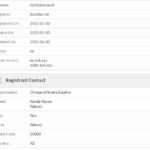 The owner of Tech bank is unknown. However we were able to fetch some information about tech bank form Whois as attached in the thumbnail
Is Tech bank legit or a scam?
Based on our analysis, tech bank has similar traits with other platforms that ended up scamming their members. The idea of tech bank being a scam is highly possible.
For how long has Tech bank existed?
As of the date of writing this post, techbank.co.ke has been around for less than a week. It started operating on 18th June 2021.
Should I invest my money with Tech bank?
You're free to invest your money any amount you wish as long as you're ready for the consequences. My advice is you avoid investing with techbank.co.ke and if is a must you do so, invest what you can afford to lose.