Hela empire was launched on 26th June 2021. It is another platform owned by Satoshi agencies, which owns other platforms like SmartHela and Mula empire.
Disclaimer
Please note, I am not a member or an affiliate of Hela Empire. This review is based on research and information available online in the public domain.
Any recommendations and conclusions are only opinions and may not apply to all persons or situations.
What is Hela Empire
Hela empire is an online business that operates in countries like Kenya, Tanzania, and Uganda. We will look into various features of Hela Empire to help you make an informed decision as to whether it's worth joining.
To access Hela empire features, you'll have to sign up and then activate your account. Activation of Hela empire is done by paying Ksh 500. After payment, you can then login into your account.
Also read: Goldearn ventures 2021 honest review
Hela Empire features
Based on the information we have for now, Hela empire offers the following services;
1. Affiliate Program
Referring is the backbone of the Hela Empire.
You earn when other people join Hela empire either through your link or that of your downlines.
You're earning by referring others. They have different tiers/levels of earning, and the referral earnings vary from one tier to another.
Tier 1
You'll earn $3 (Ksh 300) in tier one when any person you invite joins using your Helaempire affiliate link and activates their account. They don't limit the number of people you invite since; they'll also be earning more as your number of referrals increase.
Tier 2
You will make $1 (Ksh 100) for every active downline in your tier 2. These level downlines are those invited by your tier 1 direct referrals.
Also read: AIB Online Trading 2021 definitive guide
Tier 3
In this tier, you'll earn $0.5 (Ksh 50) when your tier 2 downlines invite anyone to join Hela Empire. This is the last level from which you'll earn any referral bonus.
Hela empire affiliate program has several demerits as listed below:
You can only earn when someone activates their accounts. If you refer someone and they don't pay the registration fee, you'll not earn anything.
Hela empire doesn't sell any products, and therefore, the referral earnings will be your principal method of making, which is unstable in many scenarios.
The affiliate program is in a pyramidal scheme structure, meaning those who join late will probably earn nothing. One must have an extensive network to succeed in Hela Empire. This is not the case for anyone.
Even though a small fraction of people will earn a significant amount with Hela Empire, losses will also be made. Networking is not an easy task, and since it's the only way the platform can make money, huge losses by some members will be experienced.
2. Watching YouTube videos for money
Hela empire has a YouTube section where its members can watch available YouTube videos and earn.
Based on our readers' feedback, who have previously joined satoshi platforms, earning through YouTube videos does not work.
Also read: Tech bank review, is it a scam or legit?
The earning by watching YouTube videos in Hela Empire is just there to entice more people to join. If you get to watch a video, you'll be paid about $0.1 (Ksh 10). To make the matter worse, you must accumulate a certain amount of YouTube earnings before getting paid.
3. Spin wheel casino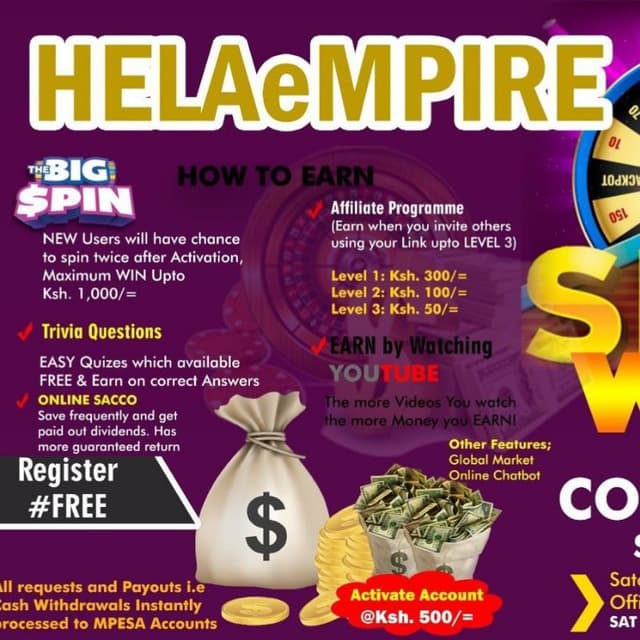 New members have access to a free welcome spin. Well, Hela empire says that the maximum amount you can win from this free spin is about Ksh 1000. This is just for marketing since the average amount you can win is around $0.2 (Ksh 20).
Hela empire also has casino spin where you have to gamble a minimum of Ksh 25. There are high chances you'll lose much compared to what you win. I can't advise anyone to use the spin wheel since there's a high probability of lose compared to winning.
You might also like: Dyer and Blair online trading 2021 guide
The spin wheel feature is not a guaranteed method of earning in Hela Empire. You'll still need referrals to make money with Hela empire since you'll never make a sufficient amount with spinning.
4. Trivia Quiz and Blogging
Trivia quizzes will be available for all Hela empire members. The trivia are simple questions that the users earn from if they answer them correctly. It is worth noting that all the earnings from the Hela empire trivia quizzes will be independent. You have to reach the minimum payout for the trivia earnings before you request to withdraw.
Related: Best Paying survey sites in 2021
As for Hela empire blogging, you'll be paid based on the views your articles get. The articles must undergo review before they are approved and published. Although people who own personal blogging sites can make more money online, this is not the case with Hela Empire. If it will be similar to former satoshi agencies' platforms, blogging is not worth being listed as a way of earning.
5. Online SACCO
Savings are crucial when managing your personal finance. SACCOs are one way you can save money and earn dividends as well as qualify for loans. Hela empire is also promising an online Sacco, which we have no clear understanding of how it will work.
Is the SACCO registered? How safe are my savings? Where and who can I report in case of any problem? These are some of the questions you have to ask yourself before deciding to save with Hela Empire.
Hela empire sacco seems to be offering 50% interest on any amount invested by the members. The interest rates are very high given in relation to the period it takes for the investment to mature. How do they generate such kind of constant interests?
Legit online jobs for students in 2021
The Sacco raises more red flags questioning the legitimacy of hela empire. Most people are likely to fall into the trap of wanting to get rich quickly and then end up being scammed.
Hela empire Tanzania
Tanzanians can also join Hela Empire and have access to all the features described above.
Networking is still the major of earning with Hela empire in Tanzania. Other ways of earning include spinning, blogging, and trivia quizzes. However, they're not sure about ways of making money online with Hela empire Tanzania.
Joining Hela Empire
If you're interested in being a Hela empire user, you can register via Helaempire website or by finding someone who's already a member and asking for their referral link. The latter is more advantageous; you can ask for a screengrab of your referrer Hela Empire's account to verify whether it is indeed paying.
You can be referred by anyone as long as they're active Hela empire users. The registration fee is non-refundable; pay it when you're ready for any consequences.
Withdrawals
Generally, Hela empire withdrawals are made via Mpesa for Kenyan users. As for other countries like Tanzania, other mobile money services will be used which suit the user. This should be clear before you decide to create your Hela empire account.
Since we're comparing Hela empire with other satoshi platforms, it's worth noting that the withdrawals might not be instant. You'll have to wait for few hours before you receive the money. Withdrawal charges will be deducted whenever you request for payout in your account.
Comparison of Hela empire, Smarthela and Mula empire
| | | | |
| --- | --- | --- | --- |
| | Hela empire | Smarthela | Mula empire |
| Registration fee | Kshs 500 | Kshs 450 | Kshs 550 |
| Main method of earning | Referrals | Referrals | Referrals |
| Earnings per direct referral | Ksh 300 | Ksh 250 | Ksh 300 |
| Level 2 earnings | Ksh 100 | Ksh 100 | Ksh 150 |
| Level 3 earnings | Ksh 50 | Kes 50 | Kes 50 |
| | | | |
Comparison of Hela empire, Smarthela and Mula empire
Conclusion
Hela empire might have some interesting features which may tempt you into joining. You must therefore not make haste decisions and end up investing your money and losing it all.
Hela empire FAQs
Who is the owner of Hela empire?

Hela empire is owned by Satoshi agencies, which also owns other platforms such as Mula empire, Smart Hela and the famous Earnsmart agencies.

Can I earn without referring in Hela empire?

You'll not earn without referrals; the referral program is the backbone of the company. Even if you earn through other ways such as spinning and trivia quizzes, there are high chances you'll never reach the minimum payout.

When are Helaempire withdrawals made?

You can withdraw your earnings in Helaempire anytime you want. The money will be sent to your Mpesa account, although there might be a delay for few hours.