Goldearn Ventures is a new platform with different earning features. It is available in countries like Tanzania, Kenya, Nigeria, Rwanda, and Uganda.
As our other reviews, in this post, we will look into; how Goldearn Ventures work and its different features, whether goldearn is a scam or legit, and if it is worth joining Goldearn ventures or not. Is it a work from home job that you can do to make money online.
We will also answer some of the questions asked about goldearn ventures at the end of this post.
Disclaimer
Please note, I am not a member or an affiliate of Goldearn Ventures. This review is based on research and information available online in the public domain.
Any recommendations and conclusions are only opinions and may not apply to all persons or situations.
Goldearn Ventures Features
Goldearn Ventures website has listed some of the features through which its users can use to make money online. Let's analyze each feature, giving both the pros and cons you might experience after joining goldearn ventures.
Surveys
Goldearn ventures offer survey questions to all their new users. One must answer around five questions correctly to earn Ksh 50 bonus. The earnings from the surveys are withdrawn independently based on most past platforms we have assessed. It is a good deal given the questions are based on general knowledge, although timed.
One con about the Goldearn surveys is that you must be an active user to participate in the surveys. Legit surveys sites are usually free to access, and they usually pay daily. A survey site like Offernation even gives new members a welcome bonus ($0.25), and since the minimum payout is $1, it is popular.
Best high-paying surveys in Kenya that pay via Mpesa carry out market research. The research is for companies that have partnered with the sites to get feedback about their products and services. As for Goldearn ventures surveys, the questions are just general, and hence the money used to pay you is from the gross income they earn from people joining the platform.
Referral program
Goldearn Ventures has a referral program to get more members, where the members can invite as many members as possible and earn commissions.
The referrals commission is paid up to the third tier. It is in the form of a pyramidal-like structure where the person at the top has a high chance of earning, and the one who joins goldearn ventures later has a high chance of losing the investment.
Also read: Dyer and blair online trading comprehensive guide
This referral program is vital to the members; it is also crucial to the owners. It is through referrals that Goldearn ventures also earn revenue. For every Kshs 450 paid as a joining fee, Goldearn ventures earn Ksh 50. They also benefit from the withdrawal charges.
Below is a decent explanation of how each goldearn referral level works and how much you can in the levels.
Level/Tier 1
The referral commission for any active member under this level is $2.5 (Ksh 250). This tier includes all people who join goldearn ventures directly using your unique link. There isn't any cap to the number of referrals you can invite to goldearn.
Level/Tier 2
When your active downlines in tier 1 invite people to Goldearn, you'll $1 (Ksh 100) each. The number of tier 2 downlines you can earn from is not limited.
Also read: How to make money with Ikopesa
Level/Tier 3
Tier 3 earnings per person invited by your level 2 indirect referrals are $0.5 each.
| | | | | | |
| --- | --- | --- | --- | --- | --- |
| | Kenya | Tanzania | Rwanda | Uganda | Nigeria |
| Joining fee | Ksh 450 | Tsh 10,500 | RWF 4,500 | UGX 18,000 | 2000 naira |
| Level 1 | Ksh 250 | Tsh 5,400 | RWF 2,200 | UGX 8,500 | 900 naira |
| Level 2 | Ksh 100 | Tsh 2,200 | RWF 900 | UGX 3,500 | 350 naira |
| Level 3 | Ksh 50 | Tsh 1,100 | RWF 450 | UGX 1,700 | 180 naira |
Goldean ventures referrals earnings in each level
Even though this referring feature might sound like the real deal, it still has its cons such as;
You can't earn from free referrals in any tier. All your Goldearn ventures downlines must pay the activation fee before you earn any amount.
Goldearn Ventures doesn't sell any digital or physical products. The affiliate program is not a typical one where people earn commissions based on the sales made. You have to recruit others for you to earn with Goldearn ventures.
Like Hela empire, SmartHela, and other platforms, the Goldearn ventures affiliate program has a pyramidal structure where the people who join are likely to gain while those who join later tend to lose. Unfortunately, only a small percentage is likely to make profits.
Spinning
Almost each of the platforms being launched has a spinning wheel. The spinning is done by active users where they have both free and paid ones. Goldearn ventures spins are likely to be similar.
The free spin is only for Goldearn new members. After activating your account, you'll be allowed to make one or two spins. According to their description, you can win up to Ksh 1,000 through the free spin. However, the reality might surprise you; high chances are always that you will win around Ksh 20, sometimes less, and if you're lucky, a little bit more.
The paid spins act like betting casinos; you must gamble at least Ksh 20 and then click the spin button. As stated in their description, you will either lose or win after spinning. The regulation of the spin wheel is not precise. Avoiding the goldearn ventures spin wheel would be the best decision, but if it is a must you gamble, do it responsibly.
Forex trading
Goldearn Ventures offers 'free' forex lessons, forex signals, and trade alerts. Since you must have activated your gold earn ventures account to access the forex trading lessons, they're technically not free.
The Goldearn summary states that they have partnered with FXpesa who'll be carrying out the forex trading lessons.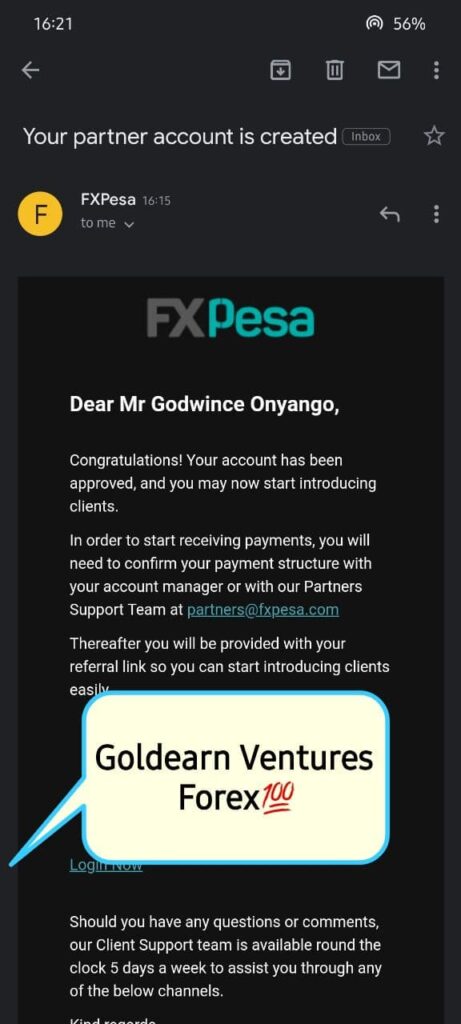 Forex online trading is not an earning method in Goldearn ventures. The skills offered can be found without any charge on the internet, and you can use them for trading if you're interested in trading.
Other Goldearn ventures features include IQ tests, meme creation, and trivia questions. They are listed as other methods of earning with goldearn, but all they do is supplement the money made through referrals.
Registration
To access any Goldearn Ventures features, you must first complete the registration process.
Creating an account from the Goldearn website or looking for a referral link from any current member of Goldearn ventures. Some of the details required while joining Goldearn ventures include your phone number, email address, and username.
Activation of the account follows after registration. The activation fee is Ksh 450, which is non-refundable whether you make money with Goldearn ventures or not. The payment methods depend on your country; for example, the primary payment method for Kenyans is Mpesa.
Once your account is active, you'll automatically be redirected to a dashboard where you can access all the Goldearn features. Otherwise, you can visit the Goldearn ventures login page and sign in with your username and password.
Withdrawals
Goldearn ventures withdrawals are made upon request by the user. Mpesa is the standard payout method as it's convenient and a little bit swift. The withdrawals request is likely to take few hours before you receive your money in your Mpesa or any other relevant account.
There are withdrawal charges for every payout successfully made. The money is deducted from your gold earn ventures account. To make any withdrawal, one must have attained the minimum withdrawal threshold.
Goldearn Ventures website has listed some of the features through which its users can use to make money online. Let's analyze each feature, giving both the pros and cons you might experience after joining goldearn ventures.
Conclusion
Clearly, Goldearn Ventures has some of the best ways of earning if they're true. Unfortunately, the referral program is the feature that stands out as the primary way of earning. Since most people are not good at recruiting other people to join online businesses, the chances of Gold earn ventures turning out to be a scam are high. Similarly, those who have mastered the referring skills will earn more, and they'll for sure convince you that Goldearn Ventures is legit.
You might also like: Legit online jobs for students in 2021