ChrisBlack Agency, found at chrisblack.agency, is an online platform where both networkers and investors can earn money online. It currently operates in four countries; Kenya, Nigeria, Tanzania, and Uganda. The platform offers forex trading lessons to all its active members.
Understanding how a company operates is significant to avoid time and money wastage. This is why we write reviews to help you decide on whether to join a platform or not.
This ChrisBlack Agency review, we help you understand how it works, the cost of joining, how much you can earn, and more. We'll also analyze its business model as a way of checking its legitimacy.
How can I make money with ChrisBlack Agency Kenya? Is ChrisBlack a scam? How to join Chris Black Agencies? These are some of the questions we will be answering in this post.
Disclaimer
Please note, I am not a member or an affiliate of Chrisblack Agency. This review is based on research and information available online in the public domain.
Any recommendations and conclusions are only opinions and may not apply to all persons or situations.
How Chrisblack Agency works
ChrisBlack Agency has two primary ways of earning: an investment program and an affiliate program. They're available to all active members despite the region of residence.
There's a one-time registration fee paid by anyone who wants to be part of Chris Black Agencies. The fee is Ksh 500 equivalent to 2000 Naira, UGX 17,500, and Tzs 10,600.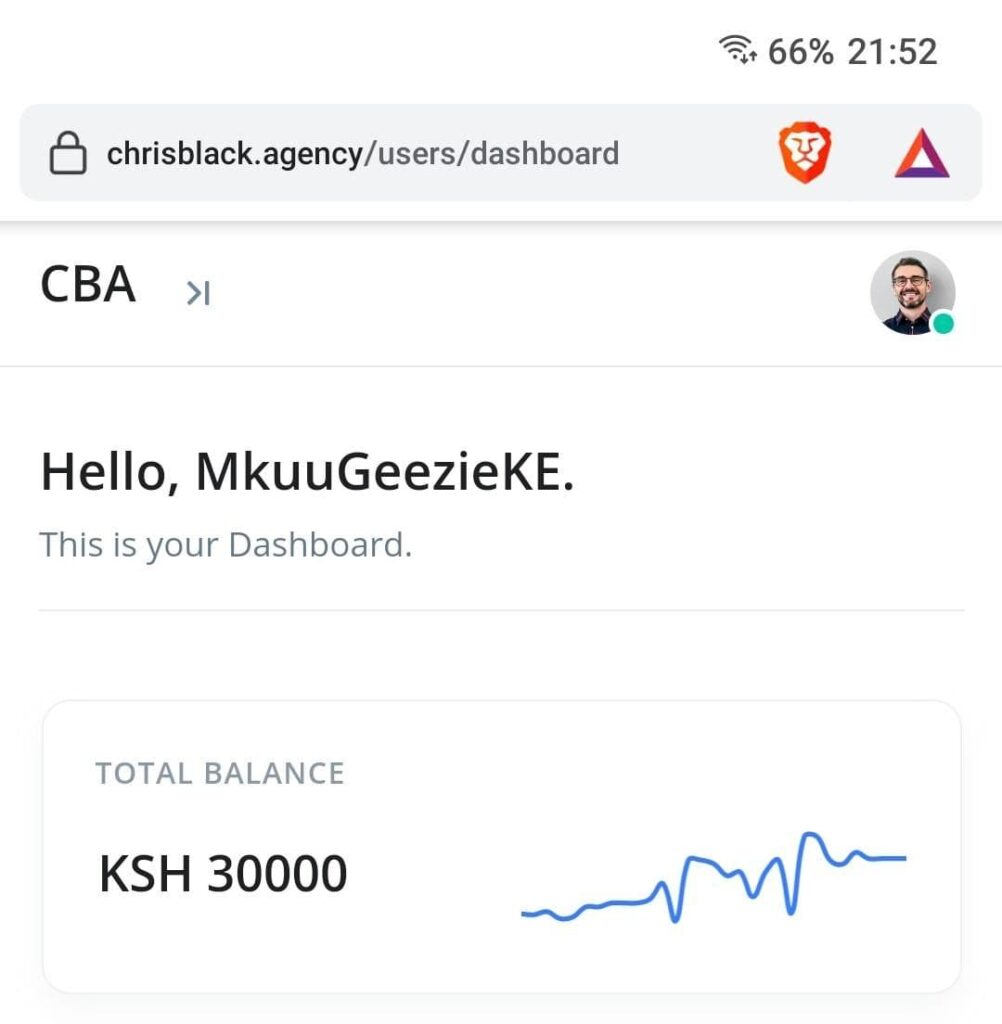 Once the account is active, you'll be prompted to log in to start exploring the ways of earning and the forex courses. To help you understand how each ChrisBlack feature works, I have discussed them in detail, highlighting the negative and positive characteristics.
Investments
The investment program is the backbone of ChrisBlack Agency, which can be deduced from all the promotions being made by the users. It's therefore important to understand how Investments work.
Read: Betterdine Agencies review Kenya 2021
Investing your funds in ChrisBlack Agencies earns you 5% daily returns. The investment runs for 60 days consecutively, where each daily interest is credited to your account.
The minimum investment is Ksh 1000 for Kenyans. This means that if you invested Ksh 5,000, you'd be getting Ksh 250 daily profit. Within the span of 60 days, you would have turned returns worth Ksh 15,000.
Below is a table showing all Chris Black investments details for all allowed countries.
Country
Minimum
Investment
Daily
Interest
Kenya
Kes 1,000
5%
Uganda
Ugx 35,000
5%
Tanzania
Tzs 21,300
5%
Nigeria
NGN 4,000
5%
Affiliate Program
ChrisBlack affiliate program pays you in two categories.
One is when you invite someone to join, and they activate their accounts. You earn Kes 300, Ksh 100, and Ksh 50 in 1st, 2nd and 3rd level, respectively. The earnings are paid regardless of whether your downlines invest in Chris Black agency or not.
Related: Pataqash technologies Kenya review
The second affiliate earnings occur when the downlines you invited decide to invest with Chrisblack agencies. You'll earn 6% of what your direct downlines deposit and 4% for your indirect downlines.
For instance, if you refer someone to join ChrisBlack, you'll first earn Ksh 300 if they activate the account. When they go ahead and invest, let's say, Ksh 10,000, you'll make Ksh 600 extra.
The referral commissions on a country basis are highlighted below.
| Countries | Level 1 | Level 2 | Level 3 |
| --- | --- | --- | --- |
| Uganda | Ugx 10,500 | Ugx 3,500 | Ugx 1,750 |
| Nigeria | 1,200 Naira | 400 Naira | 200 Naira |
| Kenya | Kshs 300 | Kshs 100 | Kshs 50 |
| Tanzania | Tzs 6,400 | Tzs 2,100 | Tzs 1,000 |
Forex and Cryptocurrency Classes
Free forex classes and signals are available in ChrisBlack Agency. The lessons are essential for people interested in online trading and don't know where to start.
The cryptocurrency classes might also be offered since they're closely related to forex trading. The quality of the knowledge will for sure depend on your skills in the field. Newbies may benefit more compared to experienced traders.
ChrisBlack Agencies Kenya does not offer any surveys to their user. This is probably for the best since survey site don't require any investment. If you're interested in making extra income by participating in various surveys you may join YourSurveys.
Methods of Payment
ChrisBlack Agencies offers Mobile Money and Binance USD as payment methods. Mpesa is the mobile money available on the platform, which is convenient for Kenyans.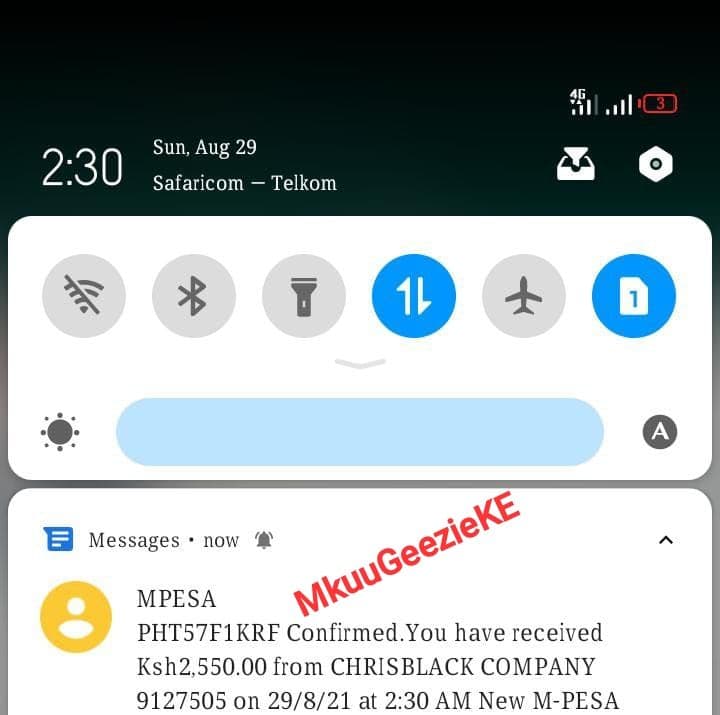 Binance USD payment method is available for those who deal with cryptocurrency. It's the primary method that Forsage BUSD used.
The method used to activate an account is the one preferred when withdrawing. Cashout requests can be made anytime, and your earnings are sent to your preferred payout channel.
The youtube video below portrays how chris black agencies work. It might be biased so use it for informational purposes only.
Scam or Legit
The Investments are 100% an HYIP which always doesn't last long. ChrisBlack Agency will also end up as a scam eventually after garnering enough funds.
The idea is to pay some members to make it sound legit, and then as many people join, they leverage the money invested and collapse. There's no stable business model that can sustain the 5% daily interest on investment Chris Black Agencies Kenya offers. As it can be seen in other platforms like Live Auction.
The recruiting part will depend on the people willing to join. There's always a high influx of users when a site is still new. The trend will start decreasing, and that's how the platform losses value. Since no products are being sold, the possibility ChrisBlack Agency being legit is minimal. We could also be wrong, since ChrisBlack Kenya will be launched on 28th August, 2021 we might learn more about the platform.
You might also like: Best Paying survey sites in 2021
Chrisblack Agency Kenya FAQs
What happens if I don't activate my account?

If you don't pay the registration fee within 24 hours after creating your account, Chrisblack Agency Kenya will delete your account. It's due to the fact that you cannot earn with an inactive account.

Can I earn without referrals?

In theory yes. But there's much to earning without referrals. The ChrisBlack Kenya investment feature isn't a reliable since the revenue model raises many questions than answers.

Is ChrisBlack Agencies Kenya legally registered?

We haven't seen any Chrisblack legal documents that can prove that it's registered. Most companies that offer financial services are usually required to be regulated by Capital Markets Authority of Kenya (CMA). Chris black agencies is not regulated.