Welcome to PBPower App Kenya Review
Launched on 11th May 2021, PBPower App is a mobile application where its users can earn money by completing various tasks daily. At least, that's how the owners suggest in the description. It's available for Kenyans and in the Google Play Store. Data indicate that more than 100,000 people have downloaded the PB power app
This comprehensive review will help us understand if PBPower App Kenya is legit or a scam, how it works, its earning features, and more. Is it a legit stay at home job? Can you earn and withdraw with PB power App Kenya?
How it works
PBPower App Kenya offers its users daily tasks where they earn varying commissions after full completion. The packages which one has subscribed to determine the number of tasks available and the earnings. Typically, more costly packages pay more compared to cheaper ones.
PBpower App Kenya registration is free, but you won't earn and withdraw until you invest. Since the app is available in Play Store, you can download and install it and then register. Alternatively, you can find a referral link and then create your account.
Also read // Is Sony Views a Scam or Legitimate?
PBPower App's revenue model is entirely dependent on what its users invest. Meaning the owners can only make money if you invest as a member. This being the reason why you cannot make money and withdraw as a free member. As you'll learn later in this review, it's one of the reasons we don't recommend the PBpower app.
PBPower App Kenya Earning Features
PBPower Packages
Making money with PBPower App Kenya depends on the package you're using. The different packages are labeled in products such as Power Bank Smart Base Pro, Power Bank Kiosk A-S810, Power Bank Set pro, Single Power Bank Set, etc. Each of these packages has different prices, and so the daily returns.
The daily returns on investment range between Kes 10 and Kes 27,000. The package that earns you Ksh 10 is free, but you will rarely withdraw. On the other hand, to make the maximum income per day, you'll have to subscribe to Ksh 300,000 package.
PB power App Kenya suggests that the recharge fees run for three months (90 days). As seen with other Ponzi schemes, PBpower might not last that long. If you remember cash24h, you know how fast it's for this kind of app to collapse.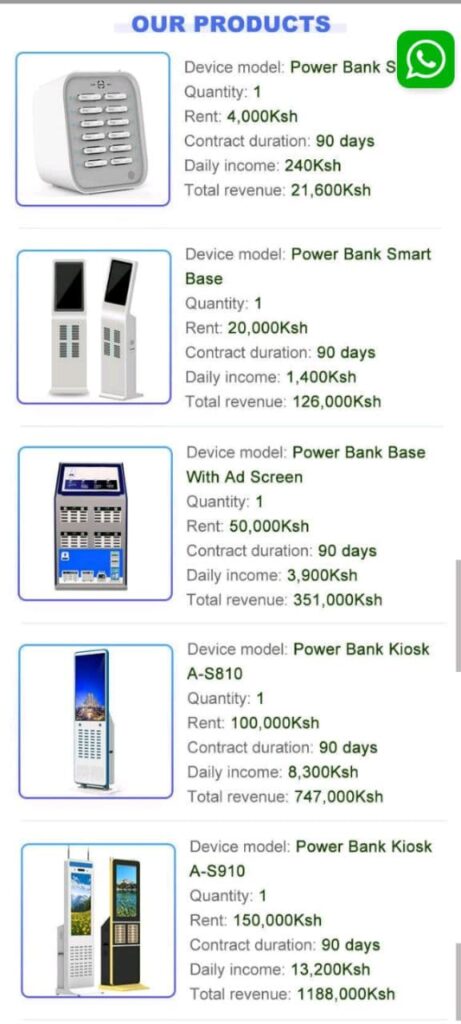 Affiliate Program
Another way of earning with PBPower Kenya is through the affiliate program. Here users are encouraged to invite other people to earn a referral bonus after their downlines invest. The referral program pays on a level basis as well as the packages the downlines recharge.
Scam or legit?
PBPower App Kenya is not legit; it's a scam, just like the Amazon Web Worker app. Investing your money in the app is a high risk since the chances of losing your deposits are extremely high compared to the returns. They have no products for sale, and it's a pyramidal scheme.
When depositing the money to PBPower, the process is fast and convenient. The challenges start during payout requests where there are delays, and sometimes accounts are suspended. They're just signs of many Ponzi schemes, such as the BestChoice app.
Also, PB Power App Kenya has notable similarities with other HYIP companies, no legitimacy documents, and the owner's identity is unknown. These and many other discrepancies led to our decision that PBPower App Kenya is a scam.
To learn more about PB Power App legitimacy, watch the video below and make a better decision.
Conclusion
As stated earlier, we don't recommend PBpower App Kenya to our readers. However, if you insist on joining the app, it would help if you invested what you can afford to lose. Read this post to find legit work-from-home jobs from which you can make money online and get paid via Mpesa.
There are genuine GPT sites that pay you to complete tasks which include Offernation as well as Surveytime.io.
If you want to know how you can identify scam sites such as PB Power before joining, read this post.
PBPower App FAQs
Is PBPower worth joining?
No. PBPower is not worth joining. Contrary to what you might have been made to believe, PB Power is a Ponzi that pays only a few people and then scam most of their users.
Is PbPower registered?
The PBPower app is not registered. There are no details of it being regulated by the Government of Kenya. Meaning it may be operating illegally.
Who owns PBPower?
The details of the person behind PBPower App are not disclosed. This decreases its trustworthiness as there's no one to be held accountable in case anything goes wrong.