What is the Kestree Kenya app? How does it work? Is Kestree App legit or a scam? Is it worth joining and investing? These are some of the questions that this Kestree Kenya Earning app review will answer.
Designed for Kenyans, you would want to know whether Kestree platform is a genuine online job that pays via Mpesa or it's just another Ponzi scheme. Well, let's take an in-depth look at the app.
Disclaimer
Please note, I am not a member or an affiliate of Kestree Kenya App. This review is based on research and information available online in the public domain.
Any recommendations and conclusions are only opinions and may not apply to all persons or situations.
Also worth reading: Yitong Platform Kenya review, real or waste of time
What is Kestree Kenya?
Kestree Kenya , found online at kestree.com, is an app where users can earn through investments and grab orders. They're the main features described on the site and the mobile application available for both Android and iOS devices.
The app's attributes are similar to the infamous PB power app, which collapsed with millions of Kenyan investments. This makes it difficult to trust the Kestree as a legitimate way of making money from home.
How Kestree Kenya App work
The working model of Kestree is based on commission earnings after grabbing an order. The commission varies from one level to another. The orders grabbed are just virtual products. Different levels require certain recharge fees to continue grabbing orders daily. Higher products levels require more recharge fees.
One has to sign up directly from the Kestree website or use an affiliate link. Like Solar Factory, you'll be required to enter your Phone number and password where an OTP is sent for verification. After that, you can register to access the features.
After registering and logging into Kestree, they give you free Ksh 1,000 as a recharge fee for level 1. This amount can't be withdrawn but can only be used to complete orders which are 12 on this level.
Related: Pataqash technologies review
Making money with Kestree Kenya
There's no realistic earning model with the Kestree Kenya app. All the listed methods raise more questions as there's no explanation on how Kestree.com generate income to pay its users.
Also: AIB online trading definitive guide
Kestree app has two main ways of earning for all the members; investments and commissions from orders. There's also a referral program where members can earn bonuses for inviting others.
Investments
The investment program is available from as low as Ksh 100, depending on the duration. For a 24-hour maturity investment, the interest is 2% in one cycle.
The other investment plans have a minimum of Ksh 1,000 deposits each. The respective maturity period and interest rates are shown in the image below.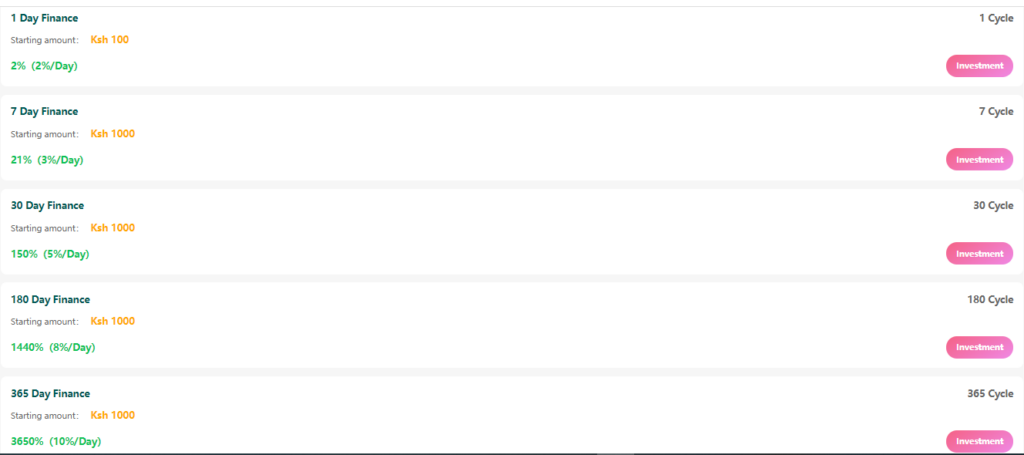 In all fairness, the ROI of Kestree Investment is generally very high. A 150% interest after 30 days is a good example of the possibility of the app being an HYIP.
It's unusual for a company to have a business model that can generate such high revenue to pay the members unless it's a pyramidal scheme. Hence the Kestree red flags.
Orders grabbing
Users are expected to grab an order and earn a commission in turn. The number of orders depends on the level Kestree users are subscribed to, as with higher levels getting more orders.
Read: Betterdine agencies Kenya review
For instance, a Level one user earns 0.2% of the order amount, ranging between Ksh 999 and Ksh 10,000. There are 12 daily orders that users can complete on this level. Each of them giving the same commission rates.
On the other hand, the highest membership level (Level 6) has a 0.8% commission per grabbed order. The amount ranges between Kes 999 and 5 million shillings.
The system of orders is designed so that you can only make more money as you subscribe and recharge to higher levels. Other platforms like Cash24h have used this to scam Kenyans.
It's a strategy that people should be aware of to avoid losing money to Ponzi schemes like the Kestree app.
Also Read: Best Paying Survey Sites in Kenya
Referral Program
Kestree referral program pays Kes 100 per qualified referral. The requirements for qualifications aren't clearly stated. The main reason for an affiliate program is to attract more people to join. It is a common strategy with the Pyramidal scheme. More new members mean Kestree can continue paying old members, and once they attain their target, it will collapse.
Compared to legit survey sites such as Surveytime.io which pays $1 per survey instantly via Paypal, Kestree is not worth it. Surveys are a good starting point as they don't require investments and pay reguraly.
Offernation which has variety of surveys for across many countries and a $0.25 joining bonus is also a worthy survey site.
Is Kestree Kenya App Legit or a scam?
No, Kestree Kenya is not legit. The business model of the app is popular with many 'make money online' scammers. There are many red flags associated with the app making it a scam. The extraordinary interest in investments within a short period is one of the main cons that make the revenue model of Kestree Kenya Earning App impossible. The identity of the Kestree platform owner is unknown.
The video below describes how people use Kestree Kenya App. It may be biased so use it for education purposes only.
Conclusion
We don't recommend Kestree Kenya App to any of our readers. It's a scam that is 100% bound to con most of its users, just like Amazon web worker or PBpower app. Avoiding it is the best choice, and you might look for alternative ways to make money from home.
Our Popular Legit Money-Making Offers

1. SurveyTime – A legit survey site that pays $1 per survey instantly via PayPal. It's available worldwide.

2. Earn passive income by starting a blog. Read our ultimate guide on how you can create a money-making blog.

3. Become a Virtual Assisitant and start making money online. To learn more about VA jobs, check out this Writers & Spire course by one of the best VA in Kenya.

4. Start making money as a freelancer on Fiverr by selling your skills. You can also check out some of the fiverr courses which will help you learn more and improve your current skills.
Kestree.com FAQs
Is Kestree.com worth joining?

No. Kestree is not worth joining as it will eventually close down. The uncertainty of when it will close makes it not worth your time and money.

Is Kestree legally registered?

There are no legal documents that verify the legitimacy of Kestree.com. Since they claim to be offering financial services, you would think that it would be regulated by the relevant authorities in Kenya, but it's not.