Goldmine agencies is an online platform with various features of earning. This unbiased review explains how goldmine works, whether goldmine is a scam or a legitimate platform and other essential information about goldmine agencies.
How Goldmine Agencies work
You'll have to create your goldmine agencies account, which is free. To be an active member of Goldmine Agencies, you will have to pay Kshs 1000 registration fee. There are no account renewals.
How you will earn with Goldmine Agencies
1. Through referrals.
Goldmine agencies will pay you a referral commission if you invite someone through your unique referral link and activate their account.
For your 1st and 2nd referrals, you'll earn Kshs 600 each. From your 3rd referral to infinity, you'll be earning Kshs 800 per new referral who signs up using your referral link.
If you refer someone and he/she create a free account without activating it, you won't receive any referral commission. The money is used to pay you the referral commission that comes from your downlines. This is because Goldmine agencies do not seem to be having another mean of generating income.
Goldmine agencies primary way of earning is by referring others. Not everyone is good at networking, given how skeptical most people are; thus, we advise you to reconsider joining goldmine agencies if you cannot refer.
Also read: TBEStation Review: Is TBEStation.com legit?
2. Goldmine Agencies Spinning
Goldmine agencies have different types of spinning, such as registration spin and the bet spin. The registration spin is usually for new users only. It is free, and there are chances that you'll win nothing. They also have a bet spin where you must stake a certain amount of money before you spin. You will either win or lose in the bet spin.
The spin wheel is luck based, just like in gambling. Many will lose, and just a few people will win. It is not a guaranteed method of earning in goldmine agencies. Most people might even lose lots of their money through spinning if they bet irresponsibly.
3. Goldmine Agencies Surveys
Goldmine offers survey questions on certain days to earn up to Kshs 50 for every complete survey. Making significant income with goldmine surveys is almost impossible. The earnings from the surveys can only be used to supplement the referral earnings.
4. Goldmine Merges
The merges are between the goldmine members. It is a peer-to-peer merge where you can either get a 50% loss or 50% profit. The maximum merge amount is Kshs 5000, while the least amount needed to participate in the gold mine merge is Kshs 100.
For example, if you participate in Goldmine merge with Kshs 3000, you'll gain a 50% profit, Kshs 1500, meaning you end up with Kshs 4500. On the other hand, you can make a 50% loss and end up losing Kshs 1500.
5. Blogging in Goldmine
If you love writing articles, you can try Goldmine blogging. It, however, pays peanut compared to what you can make if you had your blog. Follow this link to learn how you can start a blog and make money online.
Goldmine agencies withdrawals
The minimum withdrawal is Kshs 600, which is made via Mpesa.
Is Goldmine agencies legit?
According to the legal certificate below, goldmine is a legitimate platform. However, we have had many scenarios where online platforms produce fake registration certificates. We haven't verified that the certificate is genuine, so we cannot verify that the certificate is legitimate.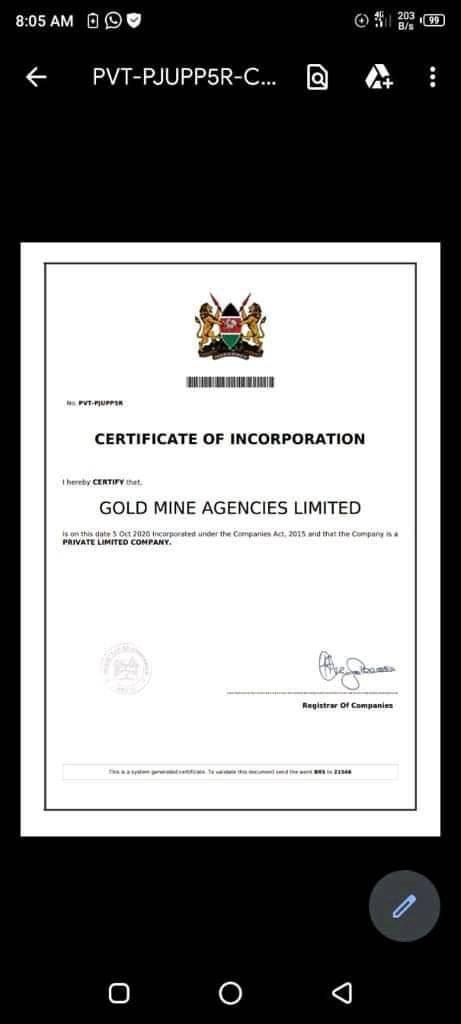 Pros
Low minimum payout
Has a legal document
Cons
Referring is the primary way of earning. Which is a hindrance for some people.
Has a relatively high joining fee.
Does not sell any physical or digital product.
Conclusion
If you are looking for ways to make money online by working from home, goldmine agencies may not be the solution. Legit work from home jobs rarely requires you to refer others to make more money. For example, the best-paid surveys sites are mostly free. All you need is a mobile phone or a PC to get started.
It is also a good opportunity for those interested in referrals programs and are ready to take investment risk. If you must join, I recommend you join under someone who you trust, a person who will guide you through each all steps in goldmine agencies.