Launched in late September 2021, Godiamond is another online platform that claims to offer an online job opportunity to its members. The users can make money on the site by referring other people to join. There are no registration or renewal fees; it's free to join.
Recall platforms such as Safwork and Huluworks shop, Godiamond is a replica with fewer ways of earning. It's attracted members from different countries worldwide, including Kenya, United States, South Africa, UK, Canada, and more.
Is GoDiamond a scam or legit? How does it work? Can I withdraw from Go Diamond? These and many other questions will be answered in this Godiamond review to ensure you understand its model.
How Godiamond work
Anyone interested in joining Godiamond must first complete the registration process. To, register you can visit godiamond.com or use a referral link from an existing member.
On the sign-up page, you'll be required to enter your details, such as your Name and email. Then click 'Activate My Godiamond Now,' and that's it; you now have a Go Diamond account.
The only remaining step is confirming your email by clicking the verification email sent to your inbox.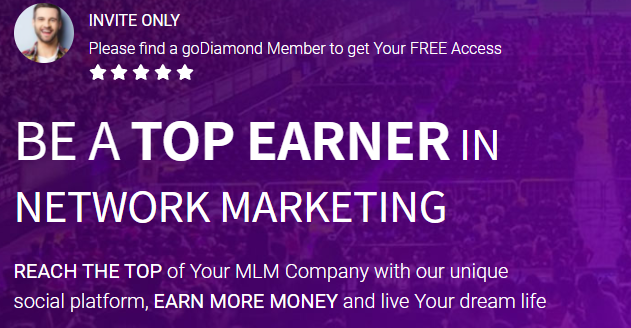 With your account successfully created, you can visit the Members login page on godiamond.com and enter your email and password to access your account.
Also read: Legit online jobs for students in 2021
How you'll earn
Godiamond has only one way of earning currently, which is through the referral program. You get paid to invite your friends or your social media followers to join the program. This is facilitated by the unique link you're given after registration.
For every successful referral, Godiamond.com pays you $100. The earnings per referral are quite high, given that it's a free platform. Making it quite unrealistic considering that they haven't given the business model that helps generate such revenue. According to the website, you can make up to $500 per referral every month.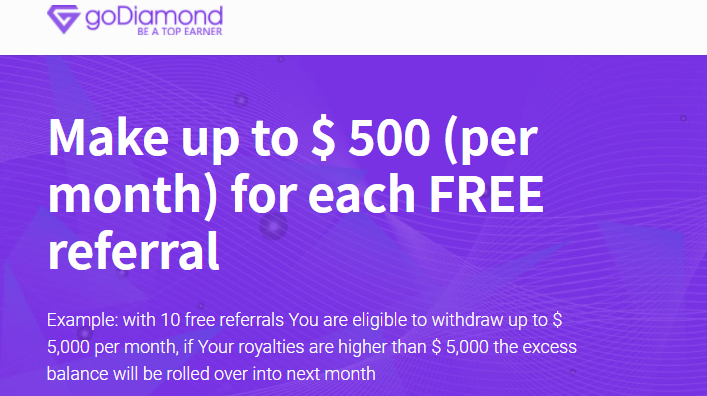 Since it's still a new platform, Go Diamond hasn't introduced other earning methods such as surveys, completing offers, trading as we have seen in some previous platforms such as Pataqash technologies.
The inadequacy of earning methods might be a blessing considering that most Pyramidal Schemes have previously taken advantage of such ways. Well, you can still earn through surveys using various legit sites such as Surveytime or Offernation.
About Withdrawals
There are various modes of payment on the site. So, after making money with godiamond, you can go ahead and request for payout. The most common way is through the cryptocurrency option, which is available worldwide.
The withdrawing process is easy and fast, but you've to wait for the earnings to be sent. Godiamond llc hasn't been sending the money after requesting for payout. So it doesn't matter how many people you invite, because either way you probably won't be paid.
Also read: Online Jobs in Kenya that pay via Mpesa
Is GoDiamond a scam or legit site
Based on the current information, we can't state if Godiamond is a legitimate site or a scam since it's still new. However, we don't recommend it since even though it's free, you might waste a lot of time finding referrals and end up earning nothing.
It's not a legit work from home job as it depends entirely on recruiting other people to the company.
Since we haven't seen any withdrawal proof to date, it isn't easy to trust the company. Furthermore, there's no clear indication of the source of $100 you earn per invite.
The founder or owner of Godiamond is also unknown, and so are its legal documents. Products or services being offered on the site are also not clearly given, which may translate into a pyramidal scheme.
Read: Best high paying surveys sites in 2021
Conclusion
Joining GoDiamond is optional and purely a personal decision; after all, it doesn't cost you anything. The site itself has been designed to capture your attention. I can't verify that people are earning on Godiamond.com, but I haven't witnessed anyone paid.
Since referring may consume a lot of time, we don't recommend Go Diamond to our readers. Yes, currently, no investments are required to be made, but since they haven't disbursed any earnings, it's not worth joining.
You may also like: How to start a blog and make money