How does the Mallpesa app work? Is Mallpesa legit or a scam? Is it worth joining? Hello and welcome to my Mallpesa Kenya review as we look into its various features. Reading through the post will help you understand all you should know about the Mallpesa app.
Making money in Kenya using your smartphone is now possible. Students—Legit online jobs in Kenya for students, stay-at-home moms, and many other people take advantage of the various internet opportunities to make money from home.
There are, however, people who are taking advantage and scamming with elusive deals. This site helps you by reviewing platforms like Mallpesa Kenya to help you make an informed decision and avoid losing money and time.
How does Mallpesa Work?
Mallpesa Kenya, found online at mallpesa.com, is an online gambling site closely similar to Spinpesa. Its business model is based on the losses of the people who lose money on the app. If you're a casino games fan, understanding how Mallpesa Kenya works won't be a problem.
The chances of earning money with Mallpesa are based on your luck. It's not a typical online job that pays via Mpesa where your hard work counts. Instead, you've to stake a certain amount and hope you win.
Like Pakakumi ventures, Mallpesa has various games which you can choose from and play. The key thing is understanding how each game works since there are no trials. You use real money, and therefore, any mistake will lead to losses, which you're trying to avoid.
Casino Games
This is the backbone of the Mallpesa model. It is the main way you can make money on the app. It's designed in such a way you can stake from Ksh 30 to Ksh 1000.
After registration, you'll get a free spin which you're most likely to win Ksh 20 maximum. That's not good, and it is somehow engineered that way to ensure you won't withdraw any amount before depositing.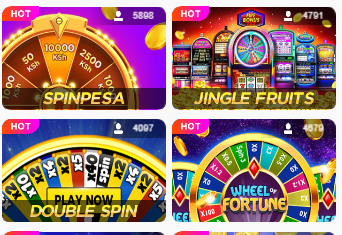 The minimum bet amount is Kes 30, meaning even after winning the 20 Shs, you'll have to deposit more to spin again. Not forgetting the minimum withdraw is Kes 100.
Probability of losing or winning
Understanding your chances of winning and losing on any site aid you in making better investment decisions.
With Mallpesa Kenya, the type of game you're playing may give you an overview of what you'll lose or gain. Some of the games you can participate in include, Spinpesa, Jingle Fruits, Wheel Fortune, Pesa Roll, Scraping Card, and more.
Also read: Cash Chat app review 2021
For instance, Spinpesa, the popular game in the Mallpesa app, has different returns depending on your stake. It's a spin wheel with different amounts, and the pointer can land anywhere.
Take a scenario where you place Ksh 200 bet; you can win Kes 8,000, making a profit of Ksh 7,800. But at the same time, the pointer can land on the Kshs 5 slot, making you lose Kes 195.
It's simply a risky game where you just have to trust your judgment. A large stake amount means you can win more money. Similarly, you also have a high chance of losing.
Also read: AIB Online Trading definitive guide 2021
Invite and Earn
Mallpesa has a referral program that is free to participate in. You're given a link that you can share with your interested friends, and then you'll earn a commission if they're active on the app.
The earnings are 5% per deposited amounted by your downlines. For instance, when you invite a friend and deposit Ksh 1000, you get Kes 50 commission.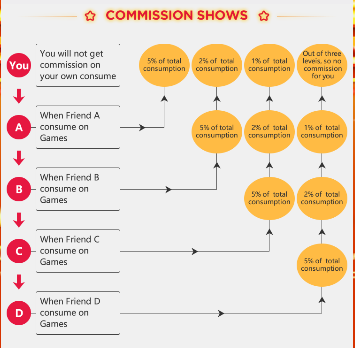 Registration and Depositing
For those interested in joining Mallpesa, you just need Mpesa phone number and follow the steps below;
Visit the Mallpesa website on your mobile phone or PC.
Enter your Phone Number, Password and then click 'Register'
You'll be redirected to your Mallpesa account dashboard.
There you'll see a message prompting you to try the free spin.
Making a deposit to Mallpesa
As stated earlier, the free spin winnings won't be enough to help you continue earning on the Mallpesa app. You'll then have to top up your account to use the features.
Read also: Pataqash Technologies review
You can either use the 'Mpesa Online' where you'll select the amount to deposit and then click Top Up. An Mpesa Pop up will appear on your phone, prompting you to enter the PIN. The money deposited will then reflect on your account.
Alternatively, you can use the Mpesa Paybill using the method highlighted on the image below;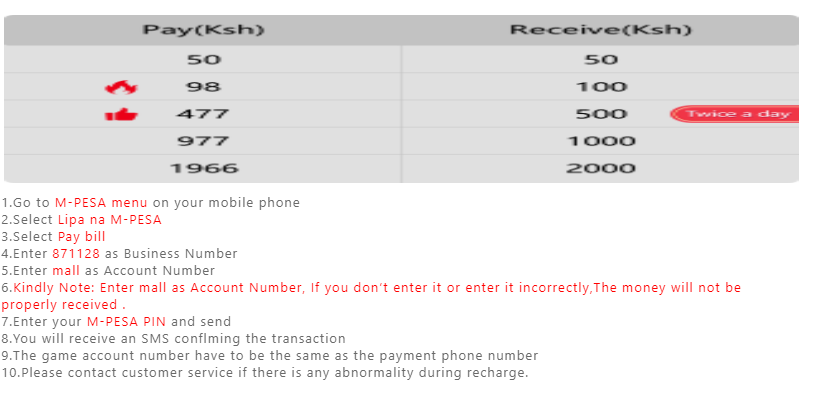 Is Mallpesa Kenya legit
Since they're paying, it's safe to say that Mallpesa is legit. Their revenue model is clear, where most of the income is generated from its members' losses.
This means that the Mallpesa Kenya app will always have people making losses for it to survive. Ideally, it's how all betting companies work. You should be aware of the risk before joining and depositing the amount. The idea of people wanting to get rich quickly is why platforms like Mallpesa, Pakakumi, and Huluworks exist.
Mallpesa has also provided contacts on how the users can reach out to them. It might be a good way to show they're legit. However, there are no legal documents or any information that shows that the platform is regulated. I wouldn't recommend it as legit work from home job that you can use to earn passive income.
How and when to make withdrawals
The minimum cash out depends on the type of earning you're withdrawing. For a bonus, it's Ksh 100, and the commission is Ksh 200. The maximum amount you can withdraw is Kes 5,000.
It takes up to 24 hours before your withdrawal request is processed. A 20% withholding tax is applied on your withdrawals. One of the reasons I think Mallpesa Kenya is legitimate.
Best paying survey sites in Kenya in Kenya
One demerit of Mallpesa withdrawals is that they don't give you the freedom to enter the specific amount you want to withdraw. For instance, you can not withdraw Ksh 700 commission; you would have to first cash out Ksh 500 followed by Ksh 200.
Is it worth joining?
Joining any online platform depend on you. Based on our previous reviews still, join online businesses even when they're pyramidal schemes. Take PBpower App, for example; even after reviewing it as a scam, many people still joined, and the ending results were devastating.
You can join Mallpesa as long as you're ready to take the investment risk. You will not earn with a free account unless you participate in their referral program. It's either betting or referring, which is also risky.
Alternatively, you can start real online jobs that will earn you passive income by starting a profitable blog.
The video below shows how platforms like Mallpesa and Spin Pesa work. Use it for educational purposes only as it may be biased.
Joining survey sites such as Surveytime, which is free, can help you earn $1 per survey. It has instant payouts meaning you don't have to wait for your earning to accumulate.
You may also like: Best sites to sell photos online and earn passive income