Spinpesa is an app that enables people to stake their money and win through casino spin wheels. The app is based in Kenya, and it's been around for quite some time.
I was invited to join Spinpesa Kenya, and since it doesn't cost anything to register, I decided to try it. They have a registration bonus which varies from one person to another. Personally, after signing up, I was given a free spin where I won Ksh 20. I have had my experience with the app, and I decided to share it in this Spinpesa review.
How Spinpesa works
Generally, Spinpesa is all about gambling. You stake money, and there are chances of both winning and losing. The business model of Spinpesa is majorly based on the betting aspect.
Like most gambling companies, the adverts of Spinpesa Kenya are always about winning. After all, that's how the companies make money by having more people placing bets.
Also read: PB Power App Kenya review
Spinpesa has various features that we're going to analyze in this review. The analysis is based on my experience; you might have a better or even worse experience. It all depends on your luck.
Getting Started
As stated earlier, Spinpesa registration doesn't require any investment.
You only require a phone number to register, preferably Mpesa, since it'll be easy when withdrawing your earnings.
The number must be real since they will send a verification code. After verification, you input your password that you can remember and hit Confirm.
That's it; you're a spinpesa user, where you can explore all the features on the app or directly through the website.
Lucky Spin
As soon as you register and login into spinpesa, there'll be a free spin wheel on the dashboard. You can win a few shillings with it, although the amount won won't be enough to withdraw.
To make more money with Spinpesa, you'll have to gamble based on your capabilities. The range is from Ksh 30 and Ksh 500; these values may vary with time and accounts.
If you don't have a sufficient amount to spin, you'll be prompted to top up your account. Mpesa is the primary method of doing depositing. There are also bonuses given per amount deposited.
How much can you win from Lucky Spin?
The amount you can win depends on the stake amount. However, it doesn't mean that staking more gives a high chance of winning. High stakes can earn you more, but at the same time, you might end up losing more.
For instance, if you stake Ksh 30 and spin the wheel, the highest amount you can win is Ksh 600. But that's not guaranteed, as the pointer on the wheel can land anywhere. There's even two option for one bob; if it lands there, you'll lose. Luck will rule out how much you get in return.
Similarly, staking Ksh 500 gives you a chance of getting returns of up to Ksh 10,000. However, the spin wheel has Ksh 10 marked on two slots; when the pointer lands on either of these slots, you will make Ksh 490 losses.
The spin wheel isn't designed to favor the users. Instead, the company ends up making more money. It doesn't mean that your Spinpesa is a scam; rather, it means you must be responsible while spinning. I wouldn't gamble more than I can afford to lose.
Free Bonus
Spinpesa free bonuses are primarily given when you invite other people to join the app.
You're given a unique link that you can share with friends via social media platforms. The bonuses given vary since there are different rewards methods. For instance, you earn 6% of your successfully invited friends' bet.
Withdrawals
The bottom line of any online job is to withdraw your earnings conveniently. With Spin pesa, you get paid via Mpesa.
The minimum payout is Ksh 100. Your earnings are only sent to your Mpesa account upon request, which may take up to 24 hours.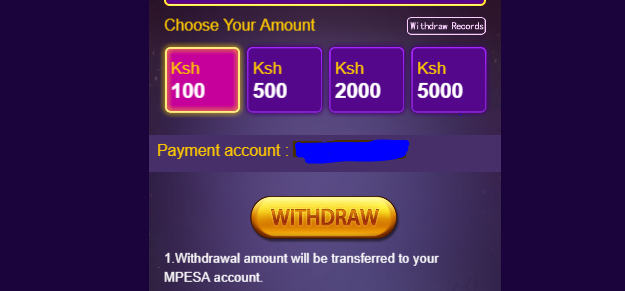 One of the features I didn't like about Spinpesa cash out is that they don't give you the freedom to enter the specific amount you want to withdraw. They list the specific amount you should withdraw, as shown below.
Final Thoughts on Spinpesa Kenya
Spinpesa Kenya may not be the ideal work from home job that you can use to make money online. Nevertheless, it's still a way you can risk with low investments. Your hard work does not determine your earning potential. It's the luck in gambling that decides who wins and losses.
Generally, the Spinpesa app looks like a legit app that may be worth joining to some people. There are no major legal documents to verify its legitimacy and regulation. Again, it's a risk that might bear fruits or nothing.