Welcome to Coinlist.co review
Is Coinlist.co legit? What is it? How does CoinList work? Is it worth joining? Hello and welcome to Online Jobs Reviews. This article reviews the Coinlist.co website to determine whether it's paying or just a Ponzi scheme.
Coinlist is trending, people are buying accounts (even though it's not recommended on the CoinList website). More reviews are being written about the platform and we have decided ours to give our readers a simple understanding of what coinlist is and whether it's worth their time.
Let's dive and analyze all the features of this trending platform.
Coinlist review: What is it?
CoinList, found online at Coinlist.co, helps crypto investors buy new tokens before they're released to the general crypto market. Users can also trade other crypto assets available on the platform while awaiting for new tokens to be launched.
According to Whois, the Coinlist.co domain was registered on January 13, 2017. It therefore has been inn existence for a period of more than 4 years.
Also read // Is Digilox Agencies Legit or a Scam? Must Read Review
How it Works
What Coinlist does is give people an opportunity to access new tokens before they're released. After successfully registering with the platform, you'll see the current token sale for now it's the Umee Token.
You'll be invited through email to enter the queue, the earlier you join the higher the priority of being assigned the first slots once the sale starts.
They've decreased the maximum amount from $1,000 to $500 to ensure more people can access the token sales.
Referral Program
The platform has a referral program where you can make money by inviting new members to join the Coinlist.co
The referral commission is $10 per invited friend which can be withdrawn anytime you wish and received within 4 days.
There are some requirements before your account is credited with the $10.
The referral must join coinlist and complete a a buy or sell order of at least $100 within in a single trade within 90 days after signing up. They must have completed the KYC, must have used your referral link.
To receive the reward the referrals must not be from Thailand, Vietnam, Nigeria, Philippines, Bangladesh, Indonesia, Uzbekistan or Russia.
NOTE: Trades on coinlist pro does not qualify for the referral rewards.
Also read: How to make money with Ikopesa
Business Model: How it makes money
CoinList business model is mainly comprised of the transaction fees they their users. Although there might be other income streams, the withdrawal charges and gas fees are likely the main way the company generates revenue.
Who can join?
Coinlist is open to everyone as long as they're of legal age. Everyone from any country can join but there's a limit in cases of what members from certain countries can do.
For instante, United States, Chinese and Canadian residents cannot participate in Mina tokens sales as well as Clover sale. The three countries with addition of Australia and Hong Kong cannot participate in the Immutable X sale.
Read also: Ryzex.net review
How and when to withdraw?
You can withdraw crypto assets or USD  anytime you want from coinlist to the blockchain wallet of your choice.
The first step is transferring the funds from the trade section to Coin List wallet and then clicking withdraw after logging into your account. They will display the steps you must follow to successfully withdraw.
For crypto assets, you'll be able to send them to a blockchain wallet such as coinbase, binance, etc.
For USD, you can send an outbound Wire transfer or ACH transfer.
Coinlist has relatively high withdrawal fees which is the main reason the company is getting negative reviews.
Coinlist Registration and Login
Although we don't recommend it, if you're interested in joining the platform you can either visit their website Coinlist.co and click Register or use a referral link from a current user.
Joining Coin List is free and can be done using your PC or smartphone. If interested to join, follow the procedure below.
Step One: Creating Account
Visit coinlist.co and click Get Started
You'll be redirected to another page where you'll be required to fill in the Sign up form. Some of the details required include your Name, email address and password.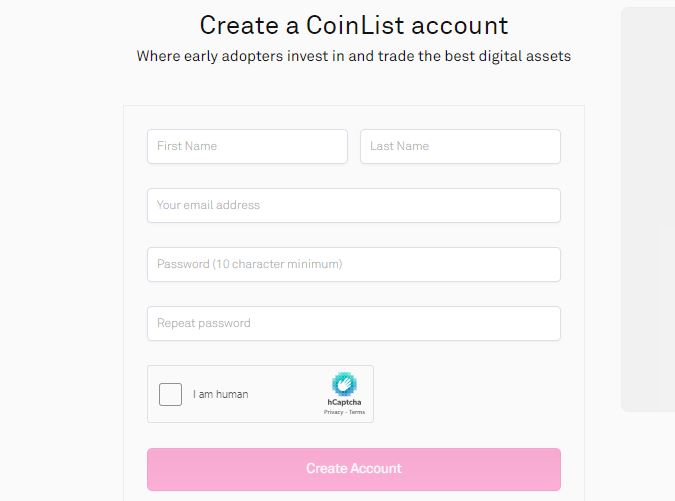 After you've completely entered your details, click Create account and then head over to your email inbox to verify that it was you registered.
You can then login by downloading the coinlist app which is available in both iOS and Android devices.
Step TWO: Identity verification
Here you'll have to carry the Know Your Customer process commonly known as KYC. It helps in preventing fraud and multiple accounts from the same person. 
KYC is essential as there's little you can do on the platform before you complete the process.
To complete the KYC process on coinlist.co, follow the procedure below;
Login into your account and then select 'Wallet tab' right below the dashboard.
You'll see a page prompting you to finish setting up your Coin List account, click the Verify button.
They will then give you instructions on what to do next. The main details required is your identity card or passport to prove that indeed you're the one who registered. 
Wait for the folks at the company to review your documents and information provided which can take a few days.
How to Top Up your coinlist account
People are joining coinlist to do cryptocurrency trading. That's buying and selling of tokens. The main benefit being that you can access new tokens as early as possible.
You'll have to deposit crypto to start purchasing the tokens on the platform.
PS: You must be approved on the KYC verification to be allowed to deposit.
Click the Wallet tab as soon as you've logged into your account
Choose the type of crypto you would like to deposit.
You'll have to click the I understand after reading the instructions given.
The next step is sending the crypto to your coinlist address. You can use blockchain wallets such as paxful, binance or coinbase to transfer crypto.
Who is behind the website?
According to Crunchbase, CoinList was founded in 2017 by a group of people who included Paul Menchov, Joshua Slayton, Andy Bromberg, Graham Jenkin, etc.
It's a private limited company with its headquarters located in San Francisco, California, United States. It has grown in a great way with about 29 investors with $119.2M total funding amount within only 3 funding rounds. 
Is it Legit?
There is a lot of information that shows CoinList is legally registered, most of which have been discussed in this post. Availability of Physical address, known identity of founders, funding and valuation information are just some of the reasons we believe that it's a legitimate platform.
Nevertheless, if you search for its reviews on TrustPilot you're likely to find a low rating with negative feedback. The main reason is the high withdrawal charges. They're relatively higher compared to typical crypto transaction fees. You should beware of this before joining as you may end up regretting.
Related: Yitong Platform review
Final Thoughts
We do recommend Coinlist especially to people who have traded crypto or any other asset before. It's an opportunity for people to find new coins such as Umee. If you have never traded or invested in cryptocurrency, you can still join but it would help if you watched some videos on YouTube to understand how it works.
You may also like: AIB online trading complete guide