Hello and welcome to my Cryptobox.game review!
In this review, we'll look at whether cryptobox.game is legit or a scam, cryptobox airdrop, the metaverse and crypto box NFT, the CBOX Token and how it works in general.
What is CryptoBox?
Cryptobox, found online at cryptobox.com, is a new virtual metaverse where different players can build, own and monetize various virtual experiences such as NFTs.
To be part of the the cryptobox metaverse, you'll have to buy $CBOX Token first. The token is the main utility that can help players buy and sell ASSETS as well as LANDS.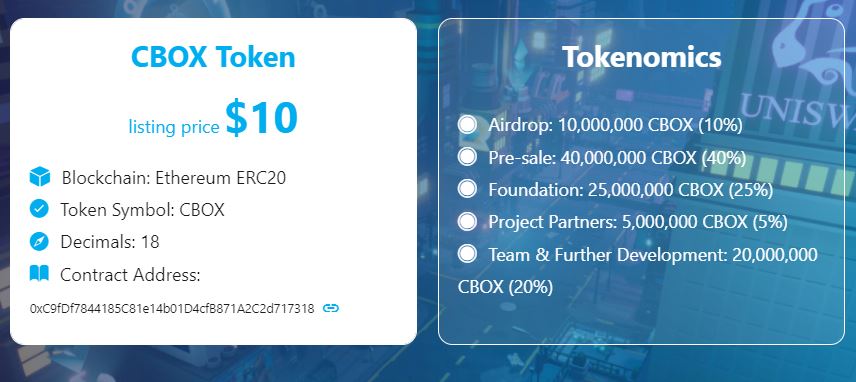 Since it's still a new platform, the sale of CBOX hasn't begun and therefore they've introduced a pre-sale. For now all that people can do is participate in the Cryptobox airdrop.
Related // Is Pmpmine.com Legit or a Scam? (South Africa Review)
What is an Airdrop
Simply put, an airdrop is when a company or organization distributes tokens or coins to its users in order to promote and reward participation in their network. By distributing these digital assets free of charge, companies can encourage more people to join their networks and become part of the community.
Airdrops are often used by startups as a way to generate interest and support from potential customers, as well as by attracting new members to their organizations. They can also be helpful in promoting a company's mission and goals.
Read also: Is CGorg.net legit or a scam
How Cryptobox airdrop works
Cryptobox has an airdrop supply of about 10 million CBOX which is available before the time given lapses. The countdown is indicated on the website.
To participate in the airdrop you just have to follow a number of steps.
Step 1: Submit your Ethereum wallet address which will help you participate in the Cryptobox airdrop.
Step 2: You'll be given a referral link which you should share with your friends for a reward of 10 CBOX tokens.
Step 3: Ensure you invite at least 4 people to qualify for the airdrop. The number of people you can invite is capped at 50 which will earn you a total of 500 CBOX.
If all go as planned, one CBOX will be listed at 10 USDT. Meaning with only four people invited you'll have 40 USDT.
The airdrop ends on March 31, 2022 when is the time the funds will be realeased the tokens will be sent to the ethereum wallet you submitted in step one.
Any cases of fraud is frowned upon and will definitely lead to removal of culprits. Thus, the people referred should be real people.
Related // Mebox Token Airdrop review
The Cryptobox Pre-sale
As indicated earlier, the airdrop can only earn you a maximum of 500 $CBOX tokens. In case you need more, you'll have to participate in the presale.
There are about 40 million $CBOX tokens to available for pre-sale. 50,000 CBOX are valued at one ethereum. You can buy a minimum of 0.05 ETH which is 2500 tokens. The maximum amount is 20 ETH.
To participate in the pre-sale. You will be required to send ETH from your wallet to Crypto box presale address displayed on their website.
Also read: Coinlist.co review
Cryptobox.game LANDS
Lands usually allow players to own a portion of the metaverse to help them host various content such as GAMES and ASSETS.
They can be defined as blockchain-backed virtual tokens which uses ERC-721 standard for NFTs representing The Crypto Box Metaverse physical parcels.
Cryptobox.game is planning on having a LAND pre-sale. They're classified in three waves as shown below;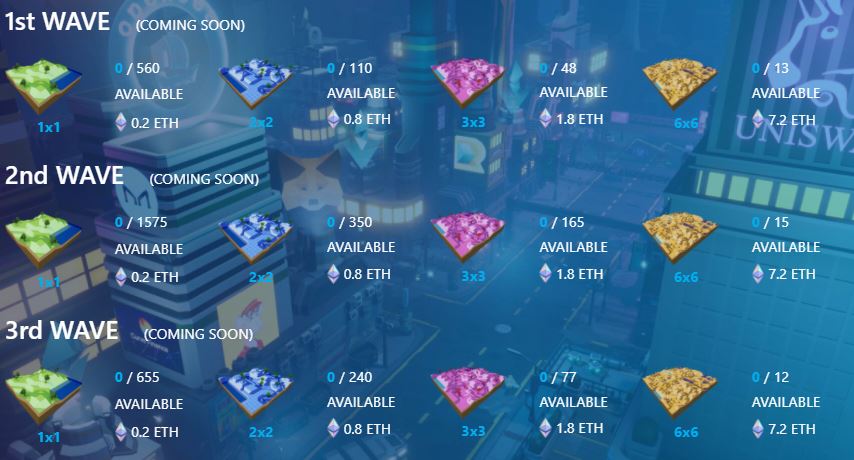 What to expect with from CryptoBox?
CryptoBox.game has provided a roadmap which can help you assess its plans for the future. The roadmap is currently only available for 2022 where it's divided into quarters.
For Q1 (Jan to Mar) there's $CBOX airdrop and pre-sale, listing of token on coinbase, binance, Uniswap and upbit and Land pre-sale which is yet to kick-off
In Q2 (April to June) there'll be crypto box metaverse version 1.0. Space Virtual Machine SDK and API Closed Beta Testing as well as A traversable World.
Q3 (July to September): Metaverse 2.0 is introduced which is a programmable world
Q4 (Oct to Dec): An infinite world which is CryptoBox Metaverse 3.0 is launched which will support programmable NFT.
Read also: AIB online trading guide
Is CryptoBox.game legit?
Since it's still in the pre sale launch, we cannot conclude whether CryptoBox is a scam or legitimate. If it end up being listed and when they send the CBOX token gained from the airdrop then it will be clear that CryptoBox game is legit.
For now we cannot recommend it as a legit work from home job that you can earn money online with.
CryptoBox.game FAQs
What is NFT?
A Non-Fungible Token (NFT) is an asset that can be uniquely identified, unlike traditional tokens that are fungible. NFTs are built on the blockchain, and each one has a unique identifier (i.e. a cryptographic address). Ownership of an NFT is not simply a right to use it, but also gives the holder the right to access and transfer it.
The potential uses for NFTs are manifold, but some of the most obvious ones include digital property rights management, gaming and advertising platforms. The advantages of NFTs over traditional tokens are twofold: firstly, they offer more security because ownership cannot be tampered with; secondly, they can be used in much more complex applications than regular cryptocurrencies.
What is Cryptobox Metaverse
Cryptobox metaverse is a virtual world that utilizes blockchain technology. The goal of the cryptobox metaverse is to create a safe and secure environment for users to interact with one another. The cryptobox metaverse also allows users to purchase and sell goods and services.
You may also like: Is workpesa.com legit or a scam