Hello and welcome to my review of workpesa.com platform.
This post will help you understand how workpesa works, if it's worth joining and whether workpesa.com is legit or a scam. There are other features we will analyze to ensure you've a clear comprehension of this trending platform.
It's the main objective of Online Jobs Reviews to help you identify the legitimate online jobs and educate our readers on how they can easily identify ponzi schemes.
Let's dive into Workpesa com review!
What is WorkPesa?
WorkPesa, found on the web at workpesa.com, is a new free Kenyan platform which claims to offer opportunities for people to earn money online.
It's gaining popularity and people are signing up with an aim of finding a stable online job.
One thing you'll note is its similarity with Safwork which ended up wasting people's time after promising multiple ways of earning.
Read also // Is Luxilife Agencies Legit or Scam?
Being a free website, the main question we should ask is whether you can withdraw the money to know if it's legitimate.
How it Works
Joining Workpesa is free meaning you won't have to pay anything to be a member or to access its features. It's the opposite of BestMula where you are required to pay Ksh 500 to be a member.
The website is designed for Kenyans with a number of ways of earning.
The notable one is the free Ksh 300 bonus that you get as soon as you sign up. Getting paid to sign up sounds like a simple task considering the payouts, but it's what makes us question where they're making money.
Generally, WorkPesa com works in a similar way with Safwork which as stated earlier, they didn't pay the users any amount earned on the site.
WorkPesa Methods of Earning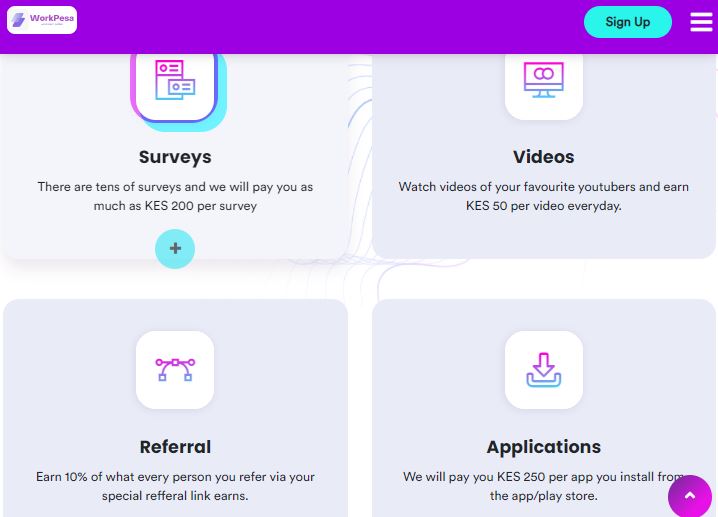 There are multiple ways through which you can make money online with Workpesa.com. The methods aren't entirely clear but we can try doing an analysis.
Below are some of the workpesa.com earning methods as described on the website;
Workpesa Surveys
WorkPesa surveys are available on the website for all registered users. They pay up to Ksh 200 each. As per the description, they usually provide tens of surveys to all members.
If you have been participating in legit online surveys in Kenya that pay through Mpesa, then you can understand that what Workpesa.com platform is promising is practically impossible.
The payout per survey is very high considering that they haven't given any reputable company that sponsor them in the survey program. Where are they getting the money to pay users Ksh 200 per survey.
A real paying Survey site such as Surveytime.io gives $1 for every survey completed and they pay it instantly. On the other hand, Workpesa hasn't been paying the users by ensuring they've certain rules to ensure that it's difficult for anyone to cash out the earnings.
Installing Apps
You can earn Kshs 250 by installing apps from Google Play Store or App Store. This method of earning is also available for everyone.
Installing apps has been used before by other platforms such Betterdine Agencies to lure people into joining and then turning out to be a waste of time. I don't see why Workpesa.com would be different.
Videos
As a workpesa member, you can earn KES 50 for every video you watch. The videos are sourced from youtube so it's nothing fancy.
Considering how much youtubers earn, it would be a loss if they paid Kes 50 for just one view.
Related: Is Videopay.is legit
Referring
Earlier I had indicated that you get free sign up bonus of Ksh 300 after joining workpesa.com. In addition to this, you'll also earn 10% of what all your referrals make while using the platform. If a referral earns Ksh 7,000 you'll get Ksh 700.
You can participate in the referral program anytime you wish using a unique link provided in your Work Pesa account.
How to join Workpesa.com?
Even though we don't recommend Workpesa com as a legitimate online job that pay via Mpesa, if you're really interested to join, you can folllow the guide below;
Visit workpesa.com websie or use a referral link from an already existing member
On the Top-right section, click the 'Sign Up' button
You'll then see a registration form where you should fill in details such as email address, username and password.
After you've completed filling the registration form click the 'Register' button
Your account is now active and you can go ahead and login.
How to Login?
In order for you to access Workpesa account and all its features, you'll have to login. Below are the steps you should follow to log into your workpesa account.
Visit workpesa.com
Click the 'Login' button next to Sign Up
On the next page, enter your email address and password used during registration
Click 'Log In' button
Also read // How to start a blog and make money
How to withdraw from WorkPesa.com
Even before you think about withdrawing your earnings, it's worth noting that the platforms rarely disburses the money. We have tried looking for any payment proof without any success.
Therefore, you must be keen to avoid being scammed. They may ask you to pay certain amount before withdrawing, which you shouldn't.
Thw withdrawal process requires the same steps as with other platforms such as PB Power app. Once you login to your Work Pesa account, click the withdraw tab and enter the amount you wish to cash out. Ensure you've reached the minimum payout.
Is WorkPesa.com legit?
WorkPesa is not a legitimate platform due to various red flags you can see even without joining. It's a waste of time where you'll keep on doing various tasks on the website without ever getting paid. Even though it's free to join, you still may risk exposing your details such as email and password.
Some of red flags include, unknown identity of owner, uncertainties of how Workpesa.com makes money, similar design with past Ponzi schemes, etc.
You may also like // Is KKbt.in a scam or legit