Hello and welcome to my review Appleviews agencies.
In this post, we will help you understand how Appleviews works, if Appleviews agencies is a scam or legit and whether it's worth joining or just a waste of time.
It's the main aim of Online Jobs Reviews, to aid you in identifying legitimate work from jobs and raise awareness when it comes to ponzi schemes.
Let's get started with Appleviews review!
What is Appleviews?
Appleviews, found online at appleviewsagencies.net, is the new trending Kenyan platform that promises its users an opportunity to make money online.
The idea behind Appleviews agencies is the earning via whatsapp and Instagram views. It is somehow similar to betterdine agencies which collapsed with most of its members money.
The name AppleViews may suggest that this platform was launched by Apple Company, but it's not.
They're taking advantage of already established brand company just like what Amazon Web Worker did in 2021.
There are many things we need to have look before coming to a conclusion whether Apple Views Agencies is worth it or not.
Related // Kestree app review
How Appleviews Works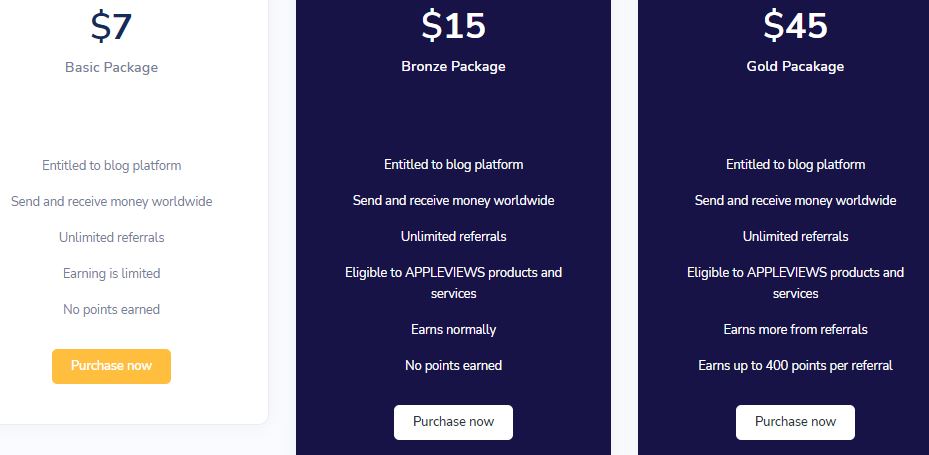 Even though joining Appleviews is free, you won't have access to its features until you upgrade to any of their three packages.
The packages helps you make money on the platform using some of their many ways. The higher the cost of package the more features you'll get.
Below is a detailed list of what Appleviews is offering on each of packages;
Read also // How to Unlock M-kopa Phone | Samsung & Nokia
Basic Package
It costs $7 which is the cheapest option.
You are given a blog platform
Send and receive money is available.
Unlimited referrals allowed
Earnings are limited in general and you won't get any points.
You won't have access to Appleviews products.
Bronze Package
This package costs $15.
You'll get a blog platform to write and publish articles.
You can refer as many people as possible on this package.
You're eligible to the Apple Views products and services.
There are no points rewarded on this package so you kind of earn nomally.
Also read // Is Cashvib.com a scam
Gold Package
It's the most expensive package priced at $45.
You also get a platform to blog.
Referrals are also unlimited and you also earn more compared to other packages.
All subscribers are elligible to Appleviews agencies pfoducts and services
There is 400 points reward per referral.
Read also // Legit online Jobs for students in Kenya
Appleviews Ways of Earning
Affiliate Program
This is a referral program where users subscribed to any Appleviews agencies packages get paid to invite their friends and social media followers to join the platform.
Being majorly dominated by Kenyans, there is a limit to who you can invite.
The earnings per referral depends on the package which both you and the downline are subscribed to where they increase with the rising cost.
You can invite as many people as possible but it has a difference with platforms like Workpesa where you could refer and earn even when the referrals don't upgrade.
WhatsApp and Instagram Earnings
Appleviewsagencies.net claims to be paying users Ksh 100 for every per view. The source of view can be either from whatsapp or Instagram.
Of course, the AppleViews Agencies whatsapp earnings are a scam. Not only is the payout per view high, but also they've no reputable advertisers who would bid for that traffic.
The things is, the platform is making money from what you deposit when buying the packages. So they entirely depend on new people joining and investing.
With time, there will be less and less people joining and Appleviews won't afford to sustain its business model hence collapsing. The same thing happened with Betterdine agencies.
Blog Platform
The blog platfom on AppleViewsAgencies net is only meant to help you write articles without any income. Which is a waste of time unless it's your passion.
You can learn how to start a blog and make money today. There are many ways to monetize your blog including ads, affiliate links, courses, digital products, dropshipping etc.
Joining AppleViews Agencies
We don't recommend AppleViews to any of our readers as a legit online job that pay via Mpesa. But if you're willing to risk your money with them, below is a simple guide on how to register;
Visit appleviewsagencies.net website or use an affiliate link from an already existing member
Click Get Started button
On the next page you'll see a registration form
Fill in all the details including Name, country, Username, etc.
Click the Sign Up button and you'll have created your account
You can the buy the package you wish but be warned as you might just be wasting the money without returns.
Related // PB Power App review
Appleviews Agencies login
To Login into your appleviewsagencies.net account do the following;
Head over to AppleViews Agencies website or use the mobile app
Click the Login Button
On the next page, fill in your Username and Password
Then click the 'Sign in' button and you're done!
Appleviews Agencies contacts
If you wish to contact Appleviews Agencies, you can do so using the details give on its website. We have listed them below
Email: appleviewsigns@gmail.com
Mobile : 410-317-9025
It's clear that the contact details especially the mobile number is fake. The best shot is the email which may not be replied. They've a chat button on the website which you can also give a try.
Also read // Is BestMula legit
Is Appleviews Legit?
Appleviews agencies is not a legit. It's a ponzi scheme which uses fake promises like whatsapp earnings to attract more people. The users buy their packages with the hope of making money online and afterwards they realize it was a scam.
It's using fake profile, contact details and location to associate itself with the well known Apple company.
The lacka of owner identity or legal documents makes it a scam like its preceeding platforms such as Eken platform.
It's not worth joining as there are high chances you'll lose both your money and time. We don't recommend it!
You may also like // Legit Online Surveys in Kenya that pay via Mpesa