What PesaON? Is pesaon.com legit? How does it work? Is pesaon platform worth joining? Hello and welcome to Online Jobs Reviews. This article reviews the pesaon.com website to determine whether it's paying or just a Ponzi scheme.
Let's get started!
PesaON review: What is it?
PesaON, found online at pesaon.com, is a platform that helps people make money online using their phones. It's one of the platforms owned by Richable Ventures of Ikopesa.
According to Whois, the pesaon.com domain was registered on November 11, 2021. It's therefore a new platform which might be hard to deduce if it's genuine and paying or not.
However, the history of its primary owners' other platforms will probably be of help when accessing its legitimacy.
How it Works

PesaON works in a very simple way. You register, activate the account and then start earning. The activation part is key since it means that you must pay a one-time fee to access your account. There's no way of accessing the company's features before you pay the registration fees.
Read: Coinlist.co review | How it works
Ways of Earning
The company has multiple ways of earning!
As you might have guessed, the main way is through the affiliate program. Other ways include Spin, Trading Coins, Wordgame, Competitions, etc. Some of these are discussed below;
Referral Program
It's an invite and earn program which pesaon.com has introduced to get more people into the platform.
You're given a unique invite link that can be used to refer people to PesaON.com.
They have three levels of earning with varying commissions. Quite with other platforms like Lipapal.com or Pataqash Technologies.
Level one is for direct referrals who join using your link. You earn Ksh 120 per downline.
In level 2, you'll earn when your direct downlines invite other people to join PesaON. The earning per downline in this level is Ksh 50.
Level 3 is the last which has a payout of Ksh 30 per downline who was invited by level 2 referrals.
All the referrals must pay the registration fee before the commission is credited into your account.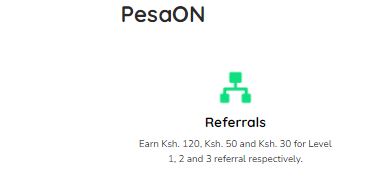 Read more: Pataqash Technologies review
PesaON Spin
A spin wheel both free and paid, is available to all members. You've a chance to win up to Kshs 2,000. There's no guarantee that you'll make money with the spin wheel since it's based on luck. In fact, in the case of Paid Spins, you may end up losing money.
Competitions
The competitions are not regular but when they occur, they're based on who referred the most active referrals. The rewards are given as per the ranking. It usually lasts for a certain period.
Trading Coins
In theory, here you're supposed to benefit from getting new coins when the price is still low. PaperWave tried doing this but it didn't turn out so well considering it collapsed within a month. PesaON may not make this work as it depends on the demand of the coin by the members. There's no guarantee that you can make money using this method.
Youtube Videos
Earning by watching youtube videos has been in so many platforms where it always ends in tears. A good example is Safwork.com which wasted its users' time with high promises.
Business Model: How it makes money
It's important to understand how a company makes money! It is easier to verify its legitimacy easily from such information.
PesaON's main income stream is from the users who join the platform. They get about Ksh 50 per active account. The losses from the paid spins also generate income for PesaON. The withdrawal fees are another way the company makes money.
Read also // Does YouTube Pay Through Mpesa in Kenya?
Who can join?
There is no doubt that the platform is dominated by Kenyans, but still people from other countries can also join PesaON. The countries listed are primarily Kenya and Tanzania. There is the 'Others' option for people who do not reside in either of these countries.
How and when to withdraw?
You can withdraw your PesaON earnings anytime you want provided you have reached the minimum payout amount.
Mpesa and PayPal are the main methods of withdrawing and there are constant transaction costs per withdrawal request made.
There have been some payment proofs showing that the company pays but you shouldn't forget that the main earning way is through recruiting new members.
Also read // Is Luxilife Agencies Legit?
PesaON Registration and Login
If you're interested in joining the platform you can either visit their website pesaon.com and click Register or use a referral link from a current member.
You'll then be directed to a registration form where you've to input your details such as Username, email, phone number, country etc.
After registration you'll be prompted to pay the activation fee which is Kshs 250. It can be paid via Mpesa, PayPal or Credit Card.
With an active account you can login and access all the features including your unique referral link.
Who is behind the website?
Pesaon.com is owned by the famous Richable Ventures. They're well known for Ikopesa, a platform that helps people make money while learning about digital marketing.
If you've joined any other Richable ventures platform, then you should have an understanding of whether they're worth it or not.
Is it Legit?
Since people can successfully withdraw from the platform, we can conclude that PesaON is a legitimate platform. The owners are known and they have other platforms that have lasted, including Ikopesa. 
It's however not the best online job that pays via Mpesa since it's a pyramidal like structure. The only possibility of continuous income is if you keep recruiting new members. Which is not sustainable for the long term.
Related: Is Cash Chat App legit?
Final Thoughts
Even with its multiple ways of earning, Pesaon might not be the ideal work from home job that can help you make money online. 
It's only worth joining if you are good at recruiting new members. Without referrals, chances of making significant returns are very minimal.
Recommended ways to make extra cash online
Our Popular Legit Money-Making Offers

1. SurveyTime – A legit survey site that pays $1 per survey instantly via PayPal. It's available worldwide.

2. Earn passive income by starting a blog. Read our ultimate guide on how you can create a money-making blog.

3. Become a Virtual Assisitant and start making money online. To learn more about VA jobs, check out this Writers & Spire course by one of the best VA in Kenya.

4. Start making money as a freelancer on Fiverr by selling your skills. You can also check out some of the fiverr courses which will help you learn more and improve your current skills.