Hello and welcome to my Digmoneyza.com review!
In this review, we will do a full analysis on how Digmoneyza.com works, if Digmoneyza.com is a scam, and other many features including registration and payout information.
In a nutshell, this Digmoneyza review will help you understand if the platform is worth joining and even investing!
What is Digmoneyza.com?
Digmoneyza.com also known as Digging Money is a new online website which aims on helping people make money online by investing on equipment. It is majorly meant for South Africans and hence the popularity in the region.
If you visit the website, one thing you'll note is that the platform has no About Us page or any other page that gives you understanding of what you're getting into. The design is merely a Sign In page without further information. Could this be one of the red flags?
The main suggested model of Digmoneyza.com is the investing feature which is available to everyone who joins the platform. In addition, they have a network marketing model where people can invite others.
Also read // Is Zebra-mining.com Legit?
Digging Money has an app version which can be downloaded from the website of about 2mb in size.
The domain name was registered in January 4, 2022 which is in accordance with Whois.com data.
How does Digmoneyza.com work?
Joining Digmoneyza com is free and you won't have to pay anything to register unlike other platforms such as Bestmula where registration fee is mandatory.
Instead of asking you to pay any funds after registration, the platform ensures that you can get started with their features by giving you a free gift of R50.
The 50 Rands can only be used to invest and aren't withdrawable as the main aim is to ensure you invest.
They have many earning features as we will discuss later. Before that, let's look at how you can register.
Read also: Is CGorg.net legit or a scam?
How to join Digmoneyza.com?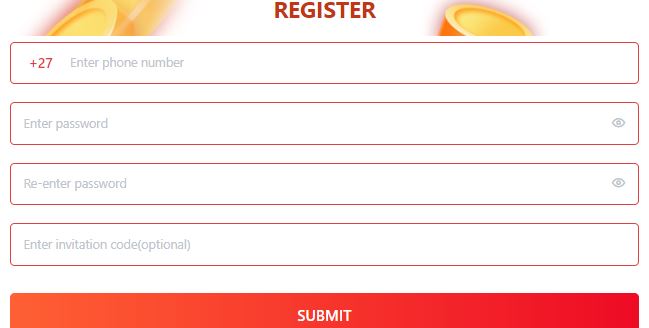 The basic requirements for you to join Digmoneyza include a smartphone or PC, you must be of legal age, reside in South Africa, etc.
Since it's free to join, the registration process is as simple as described below;
Visit Digmoneyza.com website or use a referral link from an existing member.
Click the 'Register' button which will redirect you to a registration form.
The form requires you to enter your phone number (South Africa registered), password and the invitation code if you joined using a referral link from a friend.
After you've keyed in all the details, click the 'Submit' button.
In most cases they'll have to verify your number by sending a code.
You can then Log into your account.
Also read // Is Workpesa.com legit?
How to Log into Digmoneyza.com
To log into your Digging Money account, follow the steps below;
Visit Digmoneyza.com
You'll see the log in page
Enter your phone number and password used during registration
Click 'Log In' button after which you can access your account.
Alternatively, you can download the app from the website, install and open it. Then login through the app using the procedure above from step 2.
How to Earn with Digmoneyza.com
Apart from the 50 rands you get after signing up, Digmoneyza.com has other ways through which you can make money online. Majorly you earn through investing money into the virtual equipment or the referral program.
Virtual equipment Investment
Here you earn on hourly basis depending on the amount invested. It's another version of PB Power app or Huluworks where you buy a virtual package and wait for your funds to mature.
You can use the welcome bonus as a starter but to be honest, you won't make much. At least not enough to withdraw. You have to invest to earn more money.
Here comes the deposting of funds which is risky business considering that Digmoneyza com is still new.
The more you invest by purchasing higher priced equipment level, the more the returns. In a similar manner, larger deposits means higher chances of losing.
Read also // Is Videomine.org legit or a scam?
Invite and Earn
This is the referring program which is majorly incorporated to invite many people to join the platform. Kind of what cashvib.com and apoven.net has been doing.
Forr every person you invite to join Digmoneyza.com, you'll earn 10 Rands, and even more rewards depending on the number of active downlines. Besides, if your referrals invest, you earn 10% of what they deposit. So if they invest 33,000 rands you'll earn R3,300.
You can access your invitation code or link after logging into your account. The link will track each person who registers after clicking it and therefore you're assured of the benefits.
The referral program will only reward you well if the downlines start deposting into Digmoneyza.com. Otherwise, the R10 giving for free referrals isn't sufficient unless you've a personal blog with enough SEO traffic or social media platform with huge number of followers.
Digmoneyza contacts
To contact Digmoneyza you can visit the website and use the contact information given.
They offer customer service via WhatsApp or Telegram.
Operation time of customer service is from 0900h to 1800h or 24/7 for telegram service.
How to withdraw?
The withdrawal process is similar to most online jobs platforms. The features include attaining the minimum withdrawable amount, payment methods, and withdrawal time.
With DigMoneyza com, there's a 10% withdrawal fee applicable to any amount, payout request can be made only once in a day. There's aspecific scheduled time when you can request for cash out.
Below is a procedure of how you can withdraw your earnings from digmoneyza.com:
Log into your account and at the bottome click the 'Me' tab.
You'll then see the withdraw section, click it.
Enter the necessary details including payment method and amount you wish to cash.
That's it!
Also read // Mysecondpayout.com review
Is Digmoneyza.com Legit?
Based on the past information of platforms of this kind, we can conclude that Digmoneyza.com is not legit. Even though it might be paying right now, there are high chances many users will end up being scammed.
From our previous reviews such as E-ken platform, you can see how red flags such as hidden identity of owner, unsustainable business model, High-Yield Investment Program (HYIP) make Digmoneyza a potential scamming app.
We generally don't recommend our readers to join Digging Money app as it has high chances of collapsing as a ponzi scheme.
You may also like: Is Cashvib.com legit?