Hello and welcome to my Happy Earn Agencies review!
In this post, we will analyze how HappyEarn works, if Happy Earn Agencies is legit, who can join and many other features such as withdrawal methods.
What is Happy Earn Agencies?
Happy Earn Agencies, found online at happyearn-agencies.com, is a new platform that helps people make money online. It has gained its popularity in countries such as Kenya, Tanzania, Uganda and Rwanda.
It is based on the network marketing business model, the main difference being that HappyEarn Agencies has no tangible or digital product they sell to generate revenue.
It's purely a recruitting program where new members join and the money is used to pay the old members. Kind of similar to Bestmula agencies.
Whois.com data shows that happyearn-agencies.com domain was registered on February 3, 2022 hence it's just a month old.
How Happy Earn Works
You join Happy Earn Agencies with Kes 500 which is equivalent to TZS 11,000, UGX 18,000, RWF 5,000. This is the amount you must pay so that your account is activated. Technically, registration is free but to start earning or even access any of the features you must part away with the money.
The activation is mandatory for all new members and there are no renewals or any other hidden fees.
Also read // CryptoBox.game all you should know
How to join HappyEarn Agencies.
Joining Happy Earn is easy provided you have a smartphone and the registration fee. Below is the procedure,
Visit happyearn-agencies.com or use an invite link from an existing HappyEarn member
You'll be a directed to a form where you should fill in certain details.
Some of the information required include Username, Full name, email address, Country, password and phone number.
After filling registration form agree to term and condition(after reading), and then click 'Register' button
You'll then be redirected to another page where you will pay the joining fee so that your account is active.
You can then login
Read also: Is CGorg.net legit or a scam
How to log into your account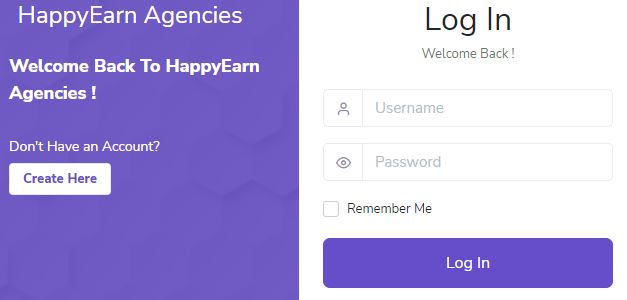 To log into your Happy Earn Agencies account, do the following;
Visit happyearn-agencies.com
You'll see the login page
Enter your username and password used during registration
Click 'Login' button and that's it!
Related // Appleviews Agencies review: Legit or Scam
How to Earn with HappyEarn Agencies
HappyEarn Agencies has different methods through which its members can make money online. It would be safe to say that they're not different ways from Goldearn Ventures or even Pataqash Technologies.
Referring others
I can bet you expected this to be main way of earning.
It's no brainer that referral program is the backbone of Happy Earn Agencies. They need more people to join since it's the only way they can also generate much revenue. It's most likely the main income stream HappyEarn has if not the only one.
Also read // Is State Earn Agencies Legit?
Once you join the platform, you'll get a referral link which you can use to invite your friends who're interested in joining Happy Earn. If they sign up and activate the accounts, you'll get referral bonus. In addition, when your direct referrals invite other people you get indirect referral commission as described below;
Line one: Here you earn from your direct referrals where the payout is Kshs 250 per invited fellow.
Line two: This level contains downlines who're invited by your directs, you'll receive a referral bonus of Ksh 150 each.
Line three: You'll earn Kshs 50 from indirect referrals on this line who are essentially invited by level two indirect.
Also read: Is cashvib.com legit?
Watching Videos
Although this mode of making money is usually associated with many scam websites. HappyEarn Agencies has incorporated watching videos for money as one of the method you can maximize your revenue as a user on the platform.
Considering platform like videopay.is which also pay members to watch youtube videos, I wouldn't trust Happy Earn with this method. It may be legitimate but how they get the income to pay you for the 30 seconds video is still a dilemma.
Memes creation
Memes are great way passing time, we spend much time on social media being entertained by different 'memelords'. But what do they get in return. What if they could earn by sharing the memes? Well, Happyearn-agencies.com claims to be paying people for creating and sharing memes. If true, then it's a great opportunity. But since there are no much information about this earning mode, I wouldn't give it so much time.
Related // How to make money on Ikopesa
Clicking Ads
Happy Earn is paying its members to click ads or what is commonly known as PTC. There isn't much information where the ads comes from and who is willing to pay for 'fake' clicks which are likely to have no conversion.
Getting paid to click ads would be a great way to make extra income from home when it is done in a legitimate manner.
How to withdraw your earnings?
Let's say you've signed up, activated and made some revenue with Happyearn-agencies.com, how do you cash out the funds?
The first step is ensuring that you've attained the withdraw limit which vary from one country to the other.
Then on your account, click the 'withdrawal' tab.
Enter the amount you wish to cash out and then wait for it to be disbursed.
Some of the payment methods available include, Mpesa, Tigo Cash, Vodacom, Airtel money and more.
The period between when you request for payout and when the funds are deposited into your mobile money account varies but should be less than 24 hours.
Related: Online jobs that pay via Mpesa
Is Happy Earn Agencies Legit?
Happy Earn Agencies is a paying platform but it's definitely not for everyone. It will only be a legit site if you're planning on earning through referrals. Otherwise, you may end up losing both time and money if you decide to opt for their other ways of making money. We don't recommend the platform to our readers as it's a risky business especially for people who don't like network marketing.
The fact that they have no physical or digital products they're selling like videomine.org, it can be assumed to be a pyramidal scheme. Thus, it is worth joining if you like referring.
You may also like: Tr-Quiz.xyz review | Real or fake?